Last February I presented a modified unemployment rate, and the article "Why U.S. Unemployment Rate Is 12.1%" outlined the reasoning and process using the data from the Bureau of Labor Statistics. Six months have gone by and not much has changed, with the headline unemployment rate falling 0.1% to 8.2%. The underlying data is still very weak, and although a slight improvement has actually taken place, it's akin to a rebound in stock prices only because values don't go straight up or down.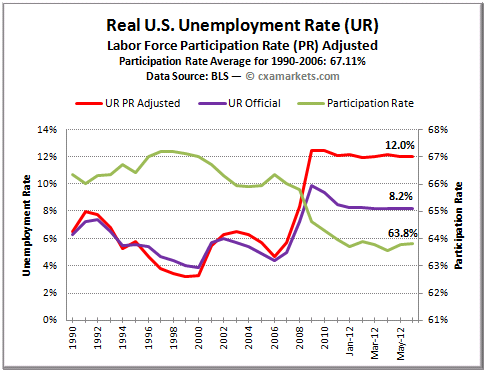 The good news is that regardless of how one measures it, the labor market appears to have stabilized - "appears" is the key word - and by now many people know that the decrease in the labor force participation rate is the magic wand that creates the semblance of a better unemployment rate. But there's yet another approach that uncovers the ongoing weakness in the labor market.
The U.S. "Unemployment Insurance Weekly Claims Report," known as "Jobless Claims," is published by the Department of Labor, and provides us with a single number every week that says very little from a macro perspective. The "Continued Jobless Claims" provides a better view of the labor market, especially when used in conjunction with the "Covered Employment" data.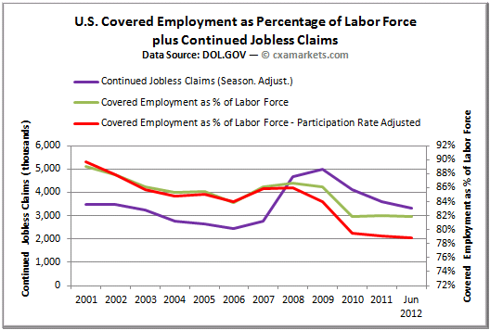 Click to enlarge
It's only natural that jobless claims will contract if the labor force is shrinking, because over time fewer workers can file for benefits, and the data shows that while continued claims have decreased, so has covered employment. Furthermore, when adjusted for the historic (1990-2006) average labor force participation rate of 67.11% used in "Real U.S. Unemployment Rate," the visible trends are a better representation of the labor market's weakness.
While the official data implies that 81.88% of workers are covered by unemployment insurance, the participation rate adjusted number is 78.86%, or 3.02% less. The difference may not appear large, but it equates to over 4.5 million people that cannot collect weekly jobless benefits, and short of relying on the kindness of family and friends, they must be draining other government resources, not to mention the reduced ability to spend. And that is what will test the stabilization argument.
Disclosure: I have no positions in any stocks mentioned, and no plans to initiate any positions within the next 72 hours.