One stock that institutional investors are buying and the market may be underestimating is Caribou Coffee (NASDAQ:CBOU). The coffeehouse company founded in 1990 now has almost 500 locations, and with low price multiples and smart money buying interest, CBOU may be poised to move higher.
Coffee-maker Caribou offers almost 500 locations across the U.S. and internationally, including drive thrus and Caribou meeting rooms. Its packaged coffees can be found in grocery stores, and restaurants also serve Caribou Coffee, all with the distinctly Alaskan culture the products have. The company's market cap is just under $300 million, so it is a David to Starbuck's (NASDAQ:SBUX) Goliath, but the company seems to offer its own distinct culture, with a lean toward social responsibility and sustainability.
As mentioned before, institutional investors such as hedge fund managers and mutual fund managers have bought CBOU over the last quarter. Net institutional purchases in the last quarter at 1.1M shares, which represents about 5.92% of the company's float of 18.59M shares. This may partly explain why the stock is rallying above its 20-day and 50-day moving averages. CBOU is still 10% below its 200-day moving average, which could set a new floor if the stock continues to rally higher.
Despite rallying on smart money buying, the stock still appears undervalued by most price multiples. PEG is at 0.96. P/FCF is at 18.61. TTM P/E is at 21.7 vs. 31.43 for the industry average. TTM P/S is at 0.8 vs. 2.5 for the industry average.
The company's balance sheet is strong, with ample liquidity and zero debt. Current ratio stands at 3; quick ratio is at 2.06. The income statement is equally encouraging. EPS has grown almost 30% in the last 5 years and is expected to grow almost 24% over the next 3 to 5 years. EPS growth over the next year is expected at 26.53%. TTM revenue has grown by almost 16% year-over-year.
All in all, I believe CBOU may be an overlooked alternative to Starbucks. Considering its low valuation and strong fundamentals, many investors should keep CBOU on their radar as a potential beneficiary of the consumer recovery.
For a closer look at CBOU stock, try the tool below.
For an interactive version of this chart, click on the image below. Analyst rating data sourced from Zacks Investment Research.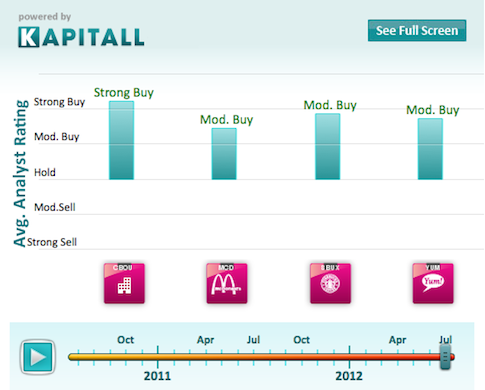 Tool provided by Kapitall.
Written by Alexander Crawford. Price multiple data sourced from Fidelity, EPS data sourced from Yahoo! Finance, accounting data sourced from Google Finance.
Disclosure: I have no positions in any stocks mentioned, and no plans to initiate any positions within the next 72 hours.