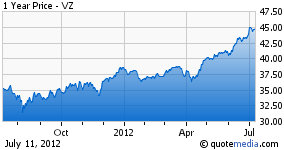 Customer satisfaction is certainly an important part of business and can have clear impacts on how a stock performs, but this is not always the most important thing to look at. While many customers may complain about recent changes with Verizon (VZ), the company remains in a decent position. It is generally handling the difficult events quite well, so there should not be too much worry here.
Verizon has had a great year so far, up almost twice the Dow Jones average increase. Verizon's up over 10% from the start of 2012 and up over $7 in the last three months. Nearing its 52-week high, Verizon is now trading close to $45, and this should excite any interested party.
Verizon will have many disappointed customers, as it has become clear that Verizon FiOS TV customers will finally be subject to the restrictions from CableCARD. This will alter the copying options, and customers will lose benefits that they currently enjoy. While this has been a long time coming, I would not be surprised if some customers were only planning to keep FiOS TV until these restrictions took effect. Verizon may begin losing customers and struggle to bring new customers in, as this will remove a real competitive edge.
This is not the only upsetting news for customers, as Verizon is also one of several companies that have delayed their anticipated releases of the Samsung Galaxy S3. Verizon initially planned to release the phone on July 10, but it has pushed this back slightly as a result of higher demand.
This is not as major of a change as the one for AT&T (T), however, so Verizon should still be alright. AT&T has postponed its release of the phone twice now, missing its original release date of June 21 and then missing its altered release date of June 28. Sprint Nextel (S) actually delivered the 16GB model on time, but it has had to delay its delivery of pre-ordered 32GB phones. Verizon should not suffer too much from this slight problem, as its delay appears to be small at the moment, and AT&T should be the company receiving the most criticism after delaying twice.
Of the two, AT&T has been the more formidable competitor to Verizon. It is also trading near its 52 week high and is up to over $35 per share after starting April just above $30. Sprint, while trading just above $3, and is the smallest of the three companies (Sprint's market cap is just above $9 billion, AT&T is over $200 billion and Verizon sits nearly in the middle at just over $126 billion). Despite this, Sprint's year has followed much the same arc as Verizon and AT&T, making it an investment worth considering.
Customers may also complain for another reason, as Verizon has gotten rid of its unlimited data plans after beginning to offer Share Everything plans. Unlimited data plans have been unprofitable for Verizon and AT&T, however, so it is probably best that the company does this. People like unlimited data plans because they can take advantage of them and get a great deal, so Verizon is merely defending itself against this. While customers may be unhappy, shareholders should be pleased with this development that will make Verizon's business more profitable. Furthermore, this is good timing, as there appears to be a high demand for shared data plans. The response will be quite mixed from customers, but it will not be as negative as it could be.
Sprint is working on improving with LTE networks as well, since this is such an important part of the industry for wireless carriers. It plans to introduce LTE in five cities by July 15, which will help it begin to compete with companies like Verizon and AT&T. Most would agree that Verizon has little to worry about at the moment, however, as it has LTE in 304 cities. AT&T only has LTE in 41 cities, so it may have more to worry about. I think this will strengthen Sprint's place in the market, therefore, and I think it will hurt AT&T a little, pulling its stock price down slightly. Verizon should remain unaffected by this development though, and it should continue to dominate the LTE market. The news marks another reason to take a look at Sprint if Verizon is not impressing you.
Another competitor is attempting to gain an edge in the smartphone market in another way, as United States Cellular (USM) has announced that it will carry Microsoft's (MSFT) new mobile operating system, Windows Phone 8, once it is released. Many companies are already giving support to this operating system, as AT&T, Verizon, and T-Mobile have also supported Windows Phone 8. U.S. Cellular is joining a list of strong competitors, and I think this is a great announcement for the company. Windows Phone 8 will be an exciting release, and many customers will want access to it. U.S. Cellular should do well if it can make this product available to its customers.
U.S. Cellular has played the exception in the industry, as its struggled to make 2012 a year of growth. It's trading about 10% lower than where it began 2012, and though June was a good month, it's still on the lower side of its 52 week range. U.S Cellular's P/E is 16.60 so there's some expectation of good times ahead, though the stock remains a more expensive risk to take.
Verizon's in for big things and there's no reason why its any customer service worries will stop it from riding high this year. The stock's seen only rising times in the last few months which is great news. The only negative may come in EPS below 1 (.93), though its dividend yield is 4.50%, which should still keep investors happy. I urge investors to strongly consider buying Verizon. I do not anticipate the above mentioned service changes to dampen the bullish rally.
Disclosure: I have no positions in any stocks mentioned, and no plans to initiate any positions within the next 72 hours.