Looks like Microsoft's (MSFT) Surface tablet is the real deal and could give Apple's (AAPL) (Apple is discussed in this article) iPad a run for its money. Surface's vapor deposited magnesium case, Touch Cover, 2x2 MIMO antenna and integral stand look really cool. The magnesium case provides a lightweight permanent scratch and wear resistance device. The Touch Cover provides screen protection and functions as a multi-touch keyboard and track pad with left and right buttons. The Touch Cover is very thin, having a thickness of 3mm. The Touch Cover also senses keystrokes as well as gestures, which provides for faster typing than via the on-screen keyboard. The 2x2 MIMO antenna provides for high throughput Wi-Fi, which Microsoft claims is the best with respect to currently available tablets. The integral stand enables placement of the display on a surface similar to traditional displays.
The Surface looks like a winner, that is, if the company can actually manufacture the devices in volume, as there have been some reports related to difficulty in manufacturing the magnesium case. (Microsoft Surface Event)
With Surface, Microsoft appears to no longer be content with letting its suppliers solely dictate and control the hardware where its software operates, which could be negative for the likes of computer manufacturers Dell (DELL) discussed in this article and Hewlett-Packard (HPQ) covered in this article. The Surface supports Windows RT for ARM Holdings (ARMH) ARM-based devices and Windows 8 Pro. Microsoft's Windows RT Surface uses Nvidia's (NVDA) ARM-based chip. Microsoft's Windows RT supporting ARM devices could pose some problems for computer processor manufacturers Intel (INTC) and Advanced Micro Devices (AMD), as desktop Windows-based device developers now have an alternative to the x86 family of processor architectures. Additionally, there have been rumors that Samsung is going to be manufacturing an ARM-based Windows RT tablet, which should be interesting.
In Microsoft's Q3 2012 earnings call held on April 19, 2012, the company reported revenue of $17.4 billion representing a growth rate of 6%. The company indicated enterprise products and services were significant drivers with respect to the 6% growth. The company reported record cash flow from operations of $9.6 billion. Microsoft estimated the global PC market grew between 2% and 4%, business PC segment grew 8% and the consumer PC segment grew 6%. Skype, Microsoft's fairly-recent acquisition, experienced 100 billion minutes of calls which represents a 40% increase over the prior year. On a negative note, the company indicated revenue for the Entertainment and Devices segment declined 16%, but the company was able to maintain its market share in that segment. In its outlook, the company expects growth in business PCs to outpace growth in consume PCs and that growth in emerging markets will outpace growth in developed markets.
Microsoft appears to be serious about the hardware business, as the company is going to acquire large touch-screen display developer Perceptive Pixel. The company is also serious with regard to online social networking with its recent purchase of Yammer. Yammer provides private social networking for companies and enables collaboration, file sharing, knowledge exchange and increased efficiency. Apparently, Microsoft is also planning on launching a Bing Fund related to entrepreneurs and startups working on projects related to the Bing search engine.
On a very positive note, Microsoft has officially announced it will release its long-awaited Windows 8 operating system in October of 2012.
On a very negative note, Microsoft will apparently report a charge related to a write-down for its aQuantive acquisition in its upcoming Q4 earnings results to be held on July 19, 2012.
Microsoft's stock price recently peaked around $32.50, pulled back to around $28.50 and is currently trading around $30 as shown below: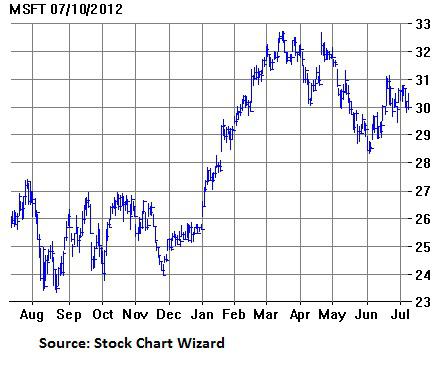 Microsoft's stock price is looking more bullish than it has looked in a long time with its forthcoming release of Windows 8 and the Surface tablet device. However, the company's execution hasn't been stellar with potholes like its aQuantive acquisition.
An investor bullish on Microsoft's future potential, yet cautious as a result of the company's missteps, might consider entering a married put position for the company. A married put position provides unlimited upside with limited downside. A married put may be entered by purchasing a put option against a long position in the stock. The put option operates as "stock insurance" and protects the position against a large drop in stock price. Married put positions are typically selected further out-in-time in order to reduce the cost associated with the put option "insurance".
Using PowerOptions, a variety of married put positions for January 2013 option expiration are available for Microsoft as shown below: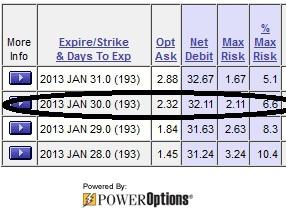 The married put using the 2013 Jan 30 put option, with its 6.6% maximum risk, looks attractive. The position may be entered by purchasing the 2013 Jan 30 put option for $2.32 against a long position in the stock.
Trade
MSFT stock (existing or purchased)
Buy 2013 Jan 30 Put at $2.32
A profit/loss graph for one contract of the Microsoft married put is shown below: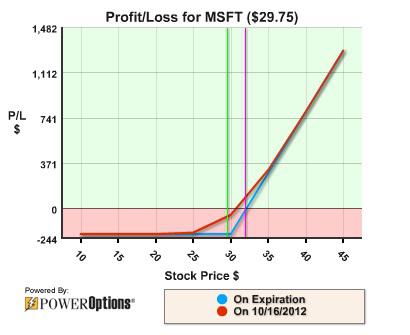 For a stock price below the $30 strike price of the put option, the value of the married put remains unchanged. If the price of the stock increases above the $30 strike price of the put option, income methods as described by RadioActiveTrading.com may be implemented in order to receive income and reduce risk.
Disclosure: I have no positions in any stocks mentioned, and no plans to initiate any positions within the next 72 hours.