Last summer Zachstocks covered comScore a bit before the stock went on a fall run, rising 90% in value. Investors in comScore Inc. (NASDAQ:SCOR) were excited about the prospects of the company monetizing its robust advertising platform which allows clients to design, implement and analyze their overall marketing plan.
However, as the economy began to show signs of fatigue, the stock began its slow painful round trip, giving up all gains and undercutting its all time low. Alert investors would certainly have locked in some of their profits, booking a gain on at least a portion of the stock originally purchased. Still, the decline was a painful reminder of how quickly fortunes can change in this volatile market.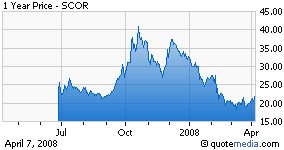 The stock is beginning to see improvement, however, as the market becomes a bit less risk averse and growth expectations are being looked at with less skepticism. On Monday, Jefferies upgraded its opinion from hold to buy due to an increasingly positive outlook for the company. The analyst believes that the company is on track to deliver robust earnings and revenue growth in 2008 and is especially encouraged by the fact that over 70% of expected revenue in 2008 was already under contract at the end of the fourth quarter.
This not only gives Wall Street confidence in projecting earnings over the next several quarters, but it also gives management a strong table of data from which to plan expansion projects. These growth initiatives are likely to include additional products launched, international expansion as a larger portion of overall sales, and possibly acquisitions.
Despite the rise in the stock price on Monday, not much new fundamental information has come out since the company announced its fourth quarter earnings metrics. At that time, the stock took a tumble as investors reeled from conservative guidance from management. Fourth quarter revenues came in at 25.3 million, which was up 39% from last year, and earnings were 22 cents a share after accounting for one time charges, double last year's number.
Still, there was much confusion about management's guidance as an intangible tax issue would cause lower GAAP earnings despite the issue having no effect on actual cash earnings. The stock traded down below 20 but spent most of the month of March forming a base while investors digested the expectations for next year.
Although the accounting issues caused confusion, fundamentally the company looks very healthy. Currently, the renewal rate for existing clients is over 90% and management has indicated that pricing pressure has been good. In fact, for each renewal, the company is seeing anywhere from a 5 to 10% increase in the new subscription rate. This points to the fact that despite a weakening economy, businesses are still willing to spend on marketing when they are confident that their investment will pay off.
comScore is working hard to develop products that are attractive and effective, and even expects to launch a new product for mobile internet, serving advertisements on cell phone screens. This initiative will require partnership with at least one of the major cell phone carriers in order to get off the ground, but management is confident that such a pact will be initiated.
International expansion continues to be a strategic decision for the company. While still primarily a US based firm, the company was able to grow its revenue mix to bring 14% of its revenue from overseas, compared to only 11% in the third quarter. As comScore gains name recognition and lands key clients in Europe, it will likely gain momentum in its international rollout.
The strength of the stock Monday on increasing volume is a positive sign for investors. The added exposure to Jefferies clients will likely drive higher recognition within the US markets and could propel the stock higher just based on investors understanding more about the company. The stock will likely trade in line with overall market ebbs and flows as far as short-term trends go, but over time it appears that strong value is building for investors who can hold on through the uncertainties.
Disclosure: Author has a long position in SCOR.