Valassis Communications (NYSE:VCI) is a media company providing marketing solutions to manufacturers and retailers through Free-Standing Inserts [FSIs], Run-of-Press [ROP] promotions, cluster targeted marketing and one-to-one marketing programs. They acquired ADVO in March, 2007 and have been quite successful in integrating operations and cutting out redundant costs.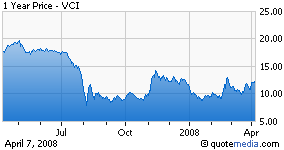 Revenues hit a record $2.242 billion in 2007 and EPS grew from $1.07 to $1.20. Consensus estimates for 2008 and 2009 now run $1.30 and $1.55 respectively. Thus VCI shares now trade for just 9.3x this year's and 7.8x 2009's estimates.
In January of this year, Valassis established a website called RedPlum.com to attract customers by offering coupons, and special deals on grocery, beauty, travel and other assorted product lines. They see this internet site as a complementary addition to their core businesses. Last year they inserted free standing inserts in the Sunday editions of over 550 newspapers. A joint venture with the L.A. Times Media Group has been expanded and will now include shared mail and delivery. A Spanish language publication has been added to increase their demographic reach.
Why own VCI shares now? These shares have typically traded at P/Es of around 14x – 16x. Value Line is assuming a 15 multiple for their long-term views as well. Even a fifteen multiple on year ahead estimates of $1.30 would bring Valassis shares back to $19.50 [or up 61.9%] from today's $12.04. The same valuation of 2009's estimated $1.55 leads to a $23.25 target less than two years out for a potential 93% two-year gain.
Is a $19.50 12-month goal realistic? Sure. VCI shares were $19.73 less than one year ago and they hit actual highs of $25.30 - $40.80 at their peaks in each year from 1997 – 2006. Value Line's 2010 – 2013 projected price range is $25 - $35.
Disclosure: Author owns shares and is short puts on Valassis.