Technology shares have led market declines over the last couple of days. On Monday afternoon, chip maker AMD announced preliminary second quarter results that were well below expectations, including that revenues would fall 11 percent. As a result, shares of AMD fell more than 11 percent on Tuesday, closing just below $5, a new low for 2012.
AMD's warning came at an interesting time, because over the last couple of days, we've heard a variety of negative comments from analysts regarding Intel (INTC). Multiple analysts have come out cutting estimates, which has put Intel shares towards the lower end of their 6-month range. It appears that there may be some more short term weakness in the stock. I'll first cover the analyst notes, then recommend a few trades for both the long and short investor.
Here are the quick summaries of analyst comments:
The themes remain the same in all reports. First, analysts believe that macroeconomic headwinds out of Europe will hurt. This is something we heard out of Cisco Systems (CSCO) just a few months ago, and a trend that I think is likely to remain for both Cisco and Intel going forward. Europe is definitely a spot of weakness for big tech companies, and when you add in the fact that US growth is a bit more sluggish than previously expected, you are going to miss your results. Cisco shares took a beating after their last report. Intel could get hit when they report their quarter, although I don't think we'll see Intel drop the 10.5% that Cisco did.
The second issue involves Microsoft (MSFT). As many know by now, the anticipation over Windows 8 has been growing. Microsoft even announced a new Windows 8 tablet called Surface recently, and one of the versions will feature Intel chips. With Windows 8 products coming out later this year, many analysts are seeing weak PC demand in Q2 as consumers wait for newer versions (kind of like how people think iPhone sales will slow down until the new version comes out). When PC sales slowdown, chip makers are going to be hurt, and that means Intel.
So where does that leave Intel currently? Well, current Q2 revenue estimates call for $13.6 billion, an increase of 4.3% over last year. Earnings per share are forecast to decline by a penny to $0.53. But the larger number is the full year one. For 2012, analysts are currently expecting revenues of $56.9 billion (and remember many of the analysts above are below that figure), which would imply 5.4% growth over 2011. Intel's current forecast is for 7% to 9% growth, meaning that the street probably expects Intel to cut its forecast when it reports next week. For 2012, earnings per share are expected to rise from $2.39 to $2.47, although expectations for 2012 were at $2.50 two months ago. It seems probable that Intel will cut its forecast, but the question is by how much. If they cut it to say 3% to 5% and are below forecasts, the stock will drop. If they cut it to say 5% to 7%, the stock could bounce since that midpoint would be ahead of expectations. Watch closely when they report.
Where does that leave Intel as an investment? Well, there are two schools of thought. On one hand, you have ARM Holdings (ARMH). ARM is a chip company at this point that is more of a growth company. ARM is expected to grow revenues by 11% this year and 15% next year. ARM pays a small dividend, twice a year that varies by payment. Based on the last two payments, the yield is about 0.75%. On the other hand, you have Intel. Intel isn't growing revenues as fast (about half the pace of ARM currently), but Intel is more of a value play. Intel currently yields about 3.52%, and is buying back billions of dollars in stock each year. Analysts view both companies as slight to moderate buys right now, with the average price targets representing 15% upside in Intel and 38% upside in ARM.
So what does that mean for the stock currently? Well, as you can see from the chart at the bottom, Intel is currently at the lower end of its 6-month range. Shares have declined almost $4 from their 52-week high of $29.27 on May 3rd. Intel shares declined more than 2 percent Tuesday, thanks to the AMD warning and market weakness. However, shares of Intel are flat over the last 6-months, while AMD is down 10% and ARM Holdings is down about 22%.
As for my personal recommendation, I would advise those thinking Intel will cut its full year forecast to wait before entering. Should Intel come down to say $24 next week, you could pick it up there. In the past, I have been recommending selling upside Intel calls. About a month ago, when Intel was just a few cents lower than it was now, I recommended selling September 2012 $28 calls. So far, Intel has stayed below $28 and that trade has been working. Should Intel cut its forecast for the year, I think that will put a short-term ceiling on the stock, meaning I don't believe it can get back to $28 by September.
An interesting trade to consider currently is the selling of January 2013 $24 puts, which last traded for $1.40 on Tuesday. The trade is simple. If Intel stays above $24 until January and the put holder does not exercise, you pocket the $1.40, which gains you about 5.5% (on today's price) over roughly 6 months. If the puts are exercised, you are forced to buy Intel shares at $24, but since you pocket the $1.40 premium, you are essentially getting them at $22.60 (all of this excluding commissions for simplicity). That's $3 below today's price, and I don't see Intel going much lower than that. The ability to buy Intel $3 lower than today's price or pocket $1.40 over 6 months seems like a good idea. Now remember, if you think Intel is going to reduce its forecast and fall, wait until next week to execute this trade. At that point, you might be able to sell the $22.50 puts for $1.40 then.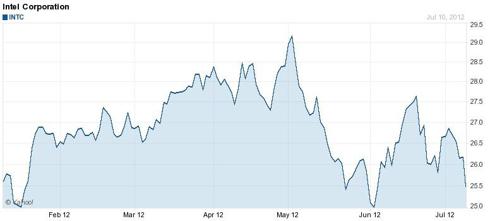 Click to enlarge
(Source: Yahoo! Finance)
Disclosure: I have no positions in any stocks mentioned, and no plans to initiate any positions within the next 72 hours.