Shaw Group (SGR) is expected to report Q2 earnings Wednesday with a conference call scheduled for 9:30 am ET.
Guidance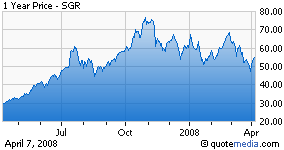 Analysts are looking for a EPS of 54c on revenue of $1.7B. The consensus range is 44c to 59c for EPS, and revenue of $1.57B to $1.93B, according to First Call.
Shaw Group issued guidance at the Lehman Brothers conference on February 12; the company sees FY08 EPS of $2.30-$2.60 vs. a consensus of $2.47 and FY08 revenue of approximately $7B vs. a consensus of $7.23B.
Shaw's bottom line has shrunk YoY from a gain of $50.2M to a loss of $19.0M, in spite of a revenue increase to $5.7B from $4.8B.
Analyst analysis
Back in January, Raymond James gave Shaw Group shares a Buy rating, stating that the company is experiencing exceptionally strong activity in the electric power generation sector, and adding that the company has strong leverage in recovering the global market for power and energy infrastructure.