Despite deteriorating fundamentals, which the market has already priced in, we believe the stock has upside potential because of the following reasons:
Strong and consistent growth in revenues signals strength in the company's operations.
Increase in average revenues per user, year on year, and a stable churn.
Affordability and predictability of its "Wireless for All" program continues to drive growth.
Possible acquisition by AT&T (T), Verizon (VZ) or Sprint (S) could lead to a price appreciation for PCS's stock.
Earnings growth expectations for the company being higher than its peers AT&T and Verizon.
Cheap valuations, as depicted in almost all of its multiples, suggest the stock is currently undervalued.
MetroPCS Communications, Inc. (PCS)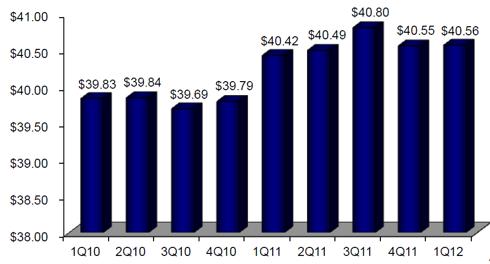 MetroPCS Communications, Inc. is a wireless telecom company that is offering wireless broadband, internet and voice services to its customers in the United States. It has approximately 9.5 million customers and is headquartered in Texas. PCS is well known for its "no annual contract" cell plan, which offers unlimited talk and text services, which are taxes and fees inclusive. Moreover, it offers various products like cell phones and smartphones, along with value plans through its various retail outlets. Its worth is $2.30 billion and has an average volume of $6.5 million.
The company derives a majority of its revenues from its Service Division, while the rest comes from its sale of handsets and smartphones. In the quarter ended 2012, the company increased its service revenues by 10% from the same quarter of the previous year. A higher average revenue per user continues to be the company's key growth driver, and is largely responsible for the boost in service revenues. The chart indicates that the company's average revenue per user improved sequentially, as well as from the same quarter of the previous year. Quarterly growth of 14 cents in 1Q2012 was led by the demand for the company's "Wireless for All" services. The above mentioned service was launched in 2010 and has become quite popular among consumers ever since, with its focus on predictability, flexibility and affordability. It offers various inexpensive cell and smartphones, along with different cell phone plans and other features. 4G LTE smartphones continue to be the growth driver for the company and have driven the company's ARPUs. The company, through its partnership with Huawei, recently added the Huawei Activa™ 4G handset to its line of smartphones, which is being offered on a discounted price. We expect strong sales for this product going forward, as it has received some positive reviews so far.
Quarterly Results:
Overall, quarterly results were disappointing compared to the prior year's quarter. Despite revenues increasing by 7%, income from operations and net income dropped by 32% and 63% respectively. This is a significant decline considering the first quarter is usually the most profitable for the company. The company saw less traffic in its outlets for its products, which was one of the major reasons for the decline in its profits for the quarter. It was able to add only 131,654 customers, compared to 1Q2011's 725,945, which is a slowdown of almost 80. Increased infrastructure costs and handset upgrade expenses also had a negative impact on the company's earnings, which showed a deterioration of almost 60% in the quarter. EPS dropped to $0.06 from the previous $0.15, with the company not able to beat the consensus sell side estimates of $0.13.
 
 
 

1Q2012

 

1Q2011

 

Change

 
 
 
 
 
 
 
 

Net subscriber additions

131,654

 

725,945

 

-82%

ARPU

 
 

$40.56

 

$40.42

 

$0.14

Churn

 
 

3.10%

 

3.10%

 

-

Adjusted EBITDA margin

22.60%

 

27.20%

 

-4.60%

Equipment revenues

$117.8mn

 

$144.2 mn

 

-18%

Income from operations

$98.3mn

 

$145.3mn

 

-32%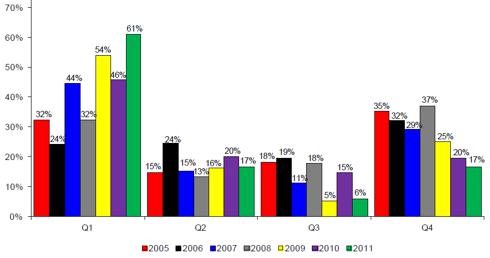 The chart given above gives the historical breakup of net customer additions for the company, clearly showing the slowdown in summer months in terms of additions, as well as the strength of the first quarter. PCS's deteriorating fundamentals suggest that the company may face losses going forward, however we also believe that much of this deterioration has already been priced in.
However, the company's yearly results tell a different story, or shall we say a turnaround story. Its revenues have grown by a 2-year CAGR of almost 20%, with gross margins of 40%, which have remained at these levels over the last few years. Operating income has also been on an upward trend and has shown a compounded growth of almost 20% as well, over a period of two years. The same can be said about the company's bottom line, which grew by over 50% in FY2011. On the face of it, big telecom companies like AT&T and Verizon seem to be doing well, both in their wireline and wireless segments, but even Verizon has seen its profits fall in recent years with its bottom line deteriorating by almost 6% in the last fiscal year. PCS's bottom line not only improved in the year ended 2011, it has also been on a consistent upward trend, as opposed to Verizon's declining trend. Moreover, its operating cash flows have shown reasonable improvement over the years, growing at a compounded rate of almost 10% over the last two years. The company has trailing operating cash flows of over $1 billion, and a cash balance of approximately $2 billion, which indicates that it has the ability to generate cash flows year over year.
Potential Takeover Target
Recently, there have been talks on the possible takeover of PCS and LEAP by telecom giants like AT&T and Verizon. This is seen as an attempt by bandwidth-hungry companies to gain more waves and expand their spectrum. Since smaller companies like PCS and LEAP concentrate on the prepaid market, it makes them ideal candidates for a takeover by companies like AT&T and Verizon. In such a scenario, PCS and LEAP are likely to see their currently depressed valuations rise. The stock's performance has been dismal in the recent past, clearly indicated by the graph below, losing almost 25% of its value since the start of the year.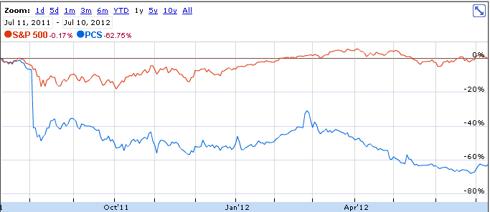 Possible Turnaround
As part of its turnaround strategy, the company has acquired various spectrum acquisitions in the months of March and April, totaling almost $22 million. The company that mostly serves cost conscious consumers has made it clear that it plans to expand its infrastructure, as well as add more smartphones to its existing line of products. PCS, in partnership with Huawei, has already launched the Huwaei active handset, which is getting positive reviews and is being offered at a very competitive price. Strong sales for the smartphone are likely to boost the company's revenues going forward.
Recently, the company launched a voice and text plan for $25 per month. This plan is very cheap and includes all taxes and fees, and will help in attracting more customers to its low cost prepaid services. No other carrier is currently offering unlimited voice and texts for this price.
With the economy not growing and consumer spending slowing as a result, PCS stands a great chance of increasing its profitability, as it currently caters to the prepaid market, serving cost conscious customers. The slow pace of the economy might prove to be beneficial for the company in terms of strong sales for its cost efficient smartphones, and its "Wireless for All" service.
PCS introduced the world's first dual-mode 4G LTE/CDMA handset. Now the company has announced its plans to cover its CDMA with 4G LTE stations.
Valuation
 
 

PCS

Verizon

AT&T

 
 
 
 
 

P/E(ttm)

 

8.74

48

51

P/S

 

0.47

1.13

1.6

Earnings growth, next 5 yrs

18%

11%

10%
It is clear from the table above that the company's multiples are trading at a significant discount to the company's peers, and this discount is also visible relative to the industry multiples. However, its earnings growth expectations are higher than telecom giants. We believe that at such cheap valuations, the stock could be an attractive option with a strong possibility of a turnaround expected from its low cost prepaid services.
Disclosure: I have no positions in any stocks mentioned, and no plans to initiate any positions within the next 72 hours.