Investment Thesis
Advancements in data networking and the expanding demand for smart devices are going to boost bandwidth needs in the future. We believe Cisco (NASDAQ:CSCO), owing to its leading market shares in high growth switching, video conferencing, and WLAN markets, is the most appropriately positioned to take advantage of this growth. Moreover, strong enterprise-wide sales network will result in stable sales, and will make Cisco a safe play in the technology sector. We believe that attractive valuations and growth opportunities make Cisco a long-term buy, and recommend a long position in it.
Business Overview
Cisco designs, manufacturers, and sells Internet Protocol-based communication and information technology products to enterprises, businesses, telecommunication companies, governments, and personal residences. In addition, the company also provides support services related to manufactured and sold equipment. The company has planned to implement an operational strategy plan by 2012 to achieve leadership in routing, switching and related businesses, focus on data center virtualization and cloud, and develop new network architectures that transform businesses. Innovation plays a key role in Cisco's business, as technologies in network-related hardware and software are rapidly evolving. Therefore, in order to maintain its competitive advantage, Cisco consistently needs to develop new innovative products that improve communication among users and help businesses in advancing productivity and cost savings. In order to remain competitive and adapt to changing industry dynamics, Cisco is focusing on the development of next generation cloud computing architectures, mobile networking and virtualization technologies, and shifting to Internet Protocol version 6 from the previous version 4.
Stock Catalysts
Economic Growth/Slump: Enterprise and Government tech spending
Next-Generation Technologies in Cloud Computing and Mobile Network Architectures
Market Presence and Internet Penetration Levels
Bandwidth Demand
Industry
The global bandwidth demand is expected to grow phenomenally in the next five years, as IDC estimates that the demand for smart devices (PC, tablet, and smartphone) will double from an expected 1.2 billion shipments in 2012, to nearly 2 billion by 2016, representing a CAGR of 15.4%. The increase in bandwidth demand is going to amplify the demand for high performance switches and routers that can handle large amounts of data.
Click to enlarge images.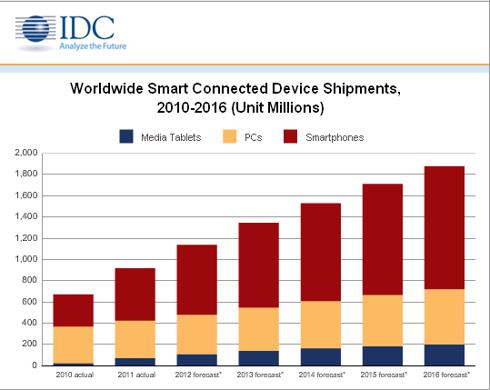 IDC reported in the start of the current year that tech spending by enterprises in 2011 remained strong despite the worsening economic outlook of Europe, and volatility in other parts of the world. Upgrades related to networking equipment remained an integral part of IT spending by enterprises and companies, in a bid to cope with the increasing demand for bandwidth. In 2012, IDC predicts that enterprises are expected to continue investment in networking equipment, led by companies in emerging economies. Gartner has revised the growth in global IT spending in 2012 upward to 3% from the earlier 2.5%, but the growth in IT spending is expected to remain under pressure due to the eurozone crisis, the weakening U.S. recovery, and slowing growth in China.
In the future, emerging markets in Asia and Latin America will drive the demand for PCs and Tablets, thus indirectly driving the demand for networking and communication parts.
PC Shipments YOY Expected Growth by Region and Form Factor, 2012-2016

Region

Form Factor

2012E Units

2013E Units

2014E Units

2015E Units

2016E Units

Emerging Market

Desktop PC

2%

3%

3%

2%

2%

Emerging Market

Portable PC

12%

14%

16%

15%

14%

Emerging Market

Total PC

7%

9%

10%

10%

10%

Mature Market

Desktop PC

2%

0%

-2%

-1%

-3%

Mature Market

Portable PC

2%

10%

12%

11%

8%

Mature Market

Total PC

2%

7%

7%

7%

5%

Worldwide

Desktop PC

2%

2%

1%

1%

0%

Worldwide

Portable PC

7%

12%

14%

13%

12%

Worldwide

Total PC

5%

8%

9%

9%

8%

Source: IDC
The Bladed Server market HPQ being the current market leader with a 46% market share, IBM with a 19% market share, and Cisco with a 13% market share, despite a slump in the worldwide server market. Bladed Servers are more popular among enterprises and users because of their compact size and modular form factor. The Bladed Server market now constitutes more than 17% of the total worldwide server market and is showing an impressive growth. Hewlett-Packard (HPQ), International Business Machines Corporation (IBM), Cisco, and Dell (DELL) are the leading players in the Blade Server market, with HPQ being the current market leader with a 46% market share, IBM with a 19% market share, and Cisco with a 13% market share. Cisco is taking full advantage of the growth in Blade Server computing, as the company enjoyed 46% year-over-year Q1 2012 growth in revenues from Blade Server computing, and captured the market by increasing its market share by 3.6%.
IDC estimates that the expected to grow by 18% in 2012 to $3.2 billion and reached $2.7 billion. The worldwide enterprise videoconferencing market was expected to grow by 18% in 2012 to $3.2 billion, as a result of expected growth in video conferencing usage in organizations owing to vanishing cultural barriers to video acceptance. But contrary to expectations, enterprise video conferencing and the telepresence market 50% market share, well below the expected 20% range, due to lower demand in the high-end immersive telepresence market. Cisco is the leader in enterprise video conferencing and the telepresence market, with more than a 50% market share. Cisco's revenues from this market also grew by 30% year over year in Q1 2012, which displays its strong foothold.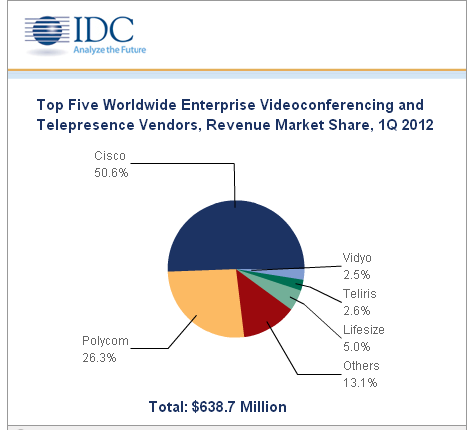 The combined consumer and enterprise worldwide wireless local area network (WLAN) market experienced a fastest growing segment with 27% year-over-year growth in Q1 2012. Enterprise was the fastest growing segment with 27% year-over-year growth in Q1 2012, as a result of increasing usage of wireless devices and Wi-Fis in enterprises. Cisco leads the current WLAN market with more than a 60% market share.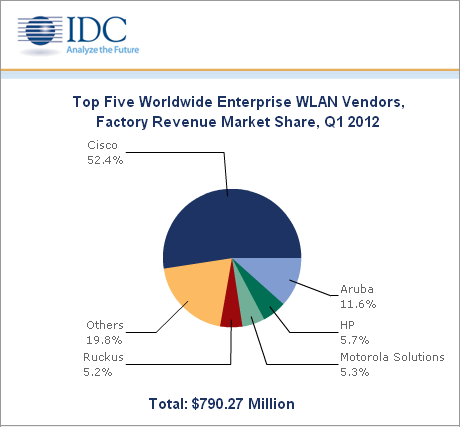 The worldwide Ethernet switch market grew 65% market share, owing to industry-wide demand arising from transition to cloud computing and large bandwidth needs arising from video traffic. In the future, growth is expected to be driven by a strong demand of gigabit network switches and emerging economies. Cisco leads the Ethernet switching market with more than a 65% market share. The router market posted a modest year-over-year growth of 2.8% in Q1 2012, compared to a slump in Q4 2011, when it 65% market share.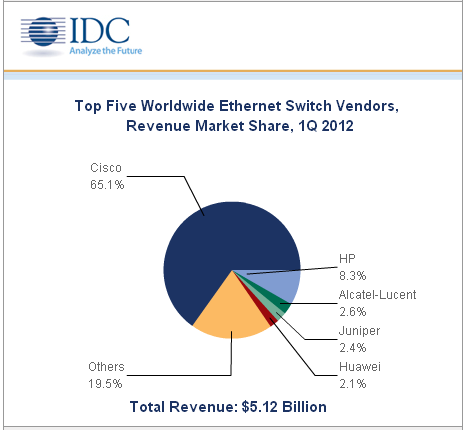 Financial Review
Cisco Q1 2012 net revenues rose by 7% with product revenue growing modestly by 5%, and service revenue containing double digit growth momentum at 13%. The Asia-Pacific region experienced robust sales growth of 24%, compared to 5% in EMEA and 3% in Americas regions. Falling public spending on technology infrastructure by governments in Europe and the Americas have slowed down revenue growth from these regions. Cisco derives more than half of its revenues from the Americas region, with EMEA currently accounting for one quarter of total revenues. In Americas, Latin American emerging economies were the driver of growth in revenues. Demand stayed slim in North America on account of declining public sector and enterprise spending. Owing to deteriorating European economic prospects, demand remained slim from western European countries. However, Cisco experienced robust demand from the U.K., Russia and other developing countries in EMEA. Strong demand from APJC was led by China, Japan, India, and Australia.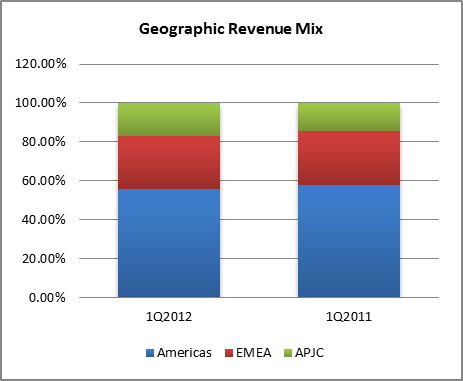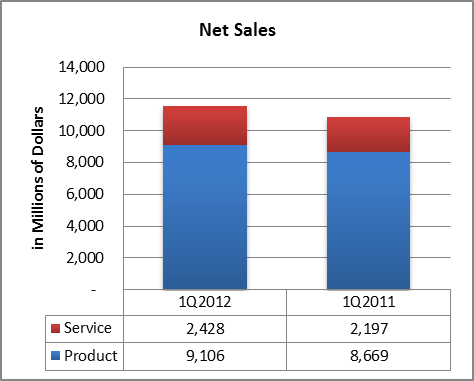 Nearly 79% of Cisco's revenues are generated by sales of hardware products, and consist of Switching, Routing, Data Center, Video, Collaboration, Security, and other products. In the products portfolio, more than 40% of product revenues came from Switching and Storage products. The 5% growth in switching revenues was driven by sales of new upgraded products. Routing products generated more than 24% of revenues for Cisco, but the revenue from this segment shrank year over year by 0.3% due to rapid declining sales of old generation routers, and slow growth of newly introduced routers. Revenues from collaboration of emerging technologies also remained stagnant due to declining sales in unified communications portfolio and in Cisco Telepresence systems, as a result of weak enterprise and government spending. The video segment experienced strong 12% year-over-year growth in revenues in 1Q2012, due to rapid growth in sales of set-top boxes and video systems. Wireless was the second fastest growing segment with 20% year-over-year increase in revenues, due to strong worldwide demand of wireless products, as consumers shift to wireless from wireline. Security revenues rose by 9% as a result of growth in security network products and refreshed firewall portfolio. Data Centers were the fastest growing segment in Q1 2012 due to strong demand arising because of enterprise-wide shift toward cloud computing systems.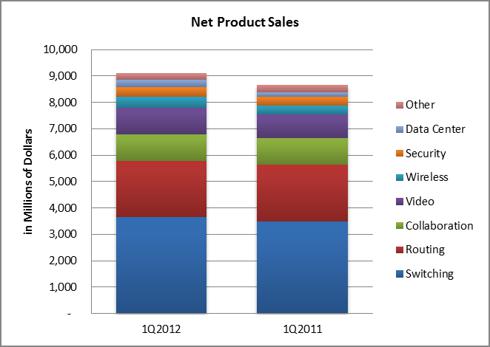 Revenue from services currently constitutes 21% of total Cisco revenues, and it increased by 13% in Q1 2012. Cisco primarily provides technical and advance support services relating to its products and systems. Strong growth in the Asia-Pacific region was because of completion of several large multiyear projects in the region during Q1 2012.
Three Months Ended

% of Total Product Sales

Net Services Sales

1Q2012

1Q2011

YOY %

Americas

1,577

1,436

9.8%

63.54%

65.36%

EMEA

521

477

9.2%

20.99%

21.71%

APJC

384

284

35.2%

15.47%

12.93%

Total

2,482

2,197

13.0%

100.00%

100.00%
Gross margins remained under pressure due to strong price competition and sales discounts. However, the undergoing restructuring program helped the company in lowering production costs, and the overall gross margins therefore rose to 61.9% in Q1 2012 from 61.5% in Q1 2011. R&D and SGA expenses decreased as a percentage of sales in Q1 2012, due to lower headcount and advertising expenses. Net income grew by 21% year over year in Q1 2012, due to modest growth in revenues and lower headcount and marketing expenses.
Valuation
| | | | | | |
| --- | --- | --- | --- | --- | --- |
| Valuation Measures (in US Dollars) | CSCO | JNPR | HPQ | IBM | MSI |
| Price | 16.41 | 14.84 | 19.11 | 186.26 | 45.94 |
| Market Cap (intraday) | 87.91B | 7.86B | 37.68B | 214.85B | 13.42B |
| Forward P/E (fye Jul 30, 2013) | 8.59 | 13.13 | 4.34 | 11.2 | 13.16 |
| PEG Ratio (5 yr expected) | 1.05 | 1.26 | 1.19 | 1.08 | 0.96 |
| Operating Margin (TTM): | 22.69% | 11.99% | 7.79% | 20.60% | 14.72% |
| Total Cash Per Share (mrq): | 9.04 | 6.48 | 4.23 | 10.74 | 12.9 |
| Total Debt/Equity (mrq): | 31.86 | 13.93 | 72.24 | 154.23 | 37.23 |
| Current Ratio (mrq): | 3.58 | 3.11 | 1.16 | 1.28 | 2.06 |
We believe that the continued thirst for high bandwidth among users and enterprises, especially in emerging economies, will maintain stable demand for switches and routers in the future. Plus, market leadership of Cisco in high growth segments, such as WLAN, Video Conferencing, Data Centers and Ethernet Switches, will enable Cisco to take advantage of the growth in these segments, and enjoy soaring revenues. We expect strong demand from the Asia-Pacific and Latin American emerging economies to offset part of the decline in demand from Europe. We believe demand for networking equipment will thrive in the U.S., owing to increased sales of smartphones, tablets, and PCs in the coming years.
Therefore, we believe that at a five-year expected PEG ratio of 1.05 times, and at a 8.59 times forward earnings multiple, Cisco's valuation looks attractive compared to Juniper Networks (JNPR), HPQ, IBM, and MSI. Therefore, we recommend buying Cisco to take advantage of high expected growth in the future, coming from smart wireless devices and high bandwidth needs of users and enterprises.
Disclosure: I have no positions in any stocks mentioned, and no plans to initiate any positions within the next 72 hours.