Applications are dead. Apps are where it's at.
But no app developer has yet broken from the pack to the public market, leading those who want to invest in the space left with betting on the companies that host the apps, like Facebook (FB), Apple (AAPL) and Google (GOOG), or those who might in the future, like Microsoft (MSFT).
Until the app explosion hits the IPO market, however, those looking to invest in software may want to take a look at security as a good place to park dollars in safety, while waiting for something more exciting.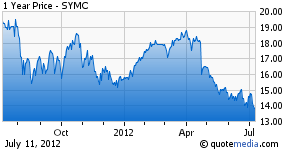 And in that area, no stock may be better than Symantec (SYMC). Especially since McAfee was swallowed by Intel (INTC), almost two years ago now, Symantec has been the big public dog in this space, with $6.7 billion in revenue for its last full year, $1.172 billion of that going to bottom line for a final EPS of $1.61. And look at the trend - that's more than twice the result of a year earlier.
It's true that the company gets no love from the street right now, a PE of just 8.76. But a dividend, which the company could now afford, would fix that in a hurry. And you have the possibility of a take-out like the 57% premium McAfee shareholders earned in the $48/share deal with Intel two years ago.
Do you think computer security concerns are going away? Do you think there aren't any buyers out there for a company like Symantec?
The company's stock chart going back 5 years shows a definite pattern. The stock falls to about its present level, then bounces back to near $20 before falling again. So you can play this to trade as well as to invest.
No, it's not sexy. But it's safe. And there's potential for a big score here. Take a look and let me know what you think.
Disclosure: I have no positions in any stocks mentioned, and no plans to initiate any positions within the next 72 hours.