Bridgford Foods (NASDAQ:BRID), a processor of frozen bread dough and snackfood products, has struggled in recent years. High commodity prices as well as management's inability to adapt in a timely manner to changing market conditions have been the main culprits for its lackluster performance.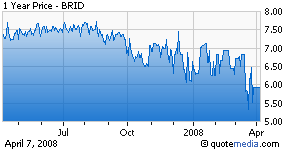 Bridgford reported a 2007 loss of $292000 on revenues of $125 million versus a profit of $1.2 million on sales of $135 million the prior year.
The Bridgford family owns 76% of the 9.45 million outstanding shares and is firmly entrenched in all phases of management. The share price has been battered down within the last 15 years trading as high as $24 and as low as $5 and currently trades around the $6 level.
Shareholder's equity or book value is $5.05 per share.
Now for some good news: The balance sheet is squeaky clean and rich in assets. If you become a balance sheet "sleuth", you'll discover a very undervalued situation.
The Property
The Plant and Equipment category lists total assets of $11.2 million, cash and cash equivalents are $11.3 million and Bridgford has been debt free for the past 20 years. The company is rich in real estate holdings, with eight processing plants throughout the country comprising of 441000 sf of capacity on 23 acres of land.
These properties have been recorded on the balance sheet at cost and have seen substantial appreciation over several years of ownership, creating hidden value waiting to be "unlocked'.
Two of Bridgford's signature holdings include its headquarters facility in Anaheim, CA, just 5 miles from Disneyland, and its Chicago meat processing plant situated close to The Sear's Tower.
These two properties alone likely have a market value north of $30 million, representing almost triple the entire $11.2 million entry listed under the Property, Plant and Equipment category.
The company appears to be grossly undervalued and management seems to agree as it has implemented an aggressive stock repurchase program of 2 million shares with about 500000 shares still available for purchase.
Value investors who are seeking a high return with minimal risk exposure may want to consider BRID a core holding, as eventually Wall Street will start to recognize the underlying potential that the real estate offers.
Disclosure: Author has a long position in BRID