DVR adoption in the US and the UK is strong, but the rest of Europe lags, largely due to a lack of concerted efforts from local satellite and cable operators to upsell more advanced set-top boxes, according to Forrester Research. Ad-skipping remains an extremely popular feature regardless of geography and is likely to remain the "killer app," even as DVRs "virtualize," Forrester says in a new report Consumers And The DVR.
Since the introduction of digital video recorders [DVRs] roughly a decade ago, TiVo (NASDAQ:TIVO) and others have been able to expand the market to more than a fifth of all US households.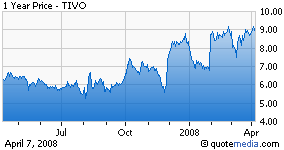 The report brings attention to a number of other interesting details. The expansion of the DVR market in the US and UK, for instance, has been significantly greater than on the European continent. Given that 55% of DVR owners say they always skip advertisements when using a DVR, it seems likely that this disparity can at least in part be attributed to the higher level of TV advertisements in the US and UK.
(Click to enlarge)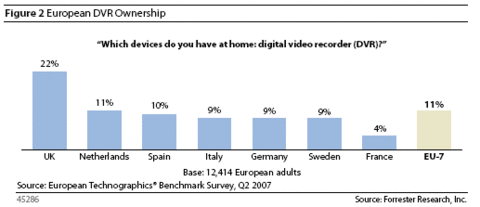 Over time, Forrester says, the "DVR box" will disappear altogether from most households to be replaced by a multifunction set-top box from cable and satellite providers, virtualized DVR in a device such as Xbox 360 or PS3, or networked DVR solutions from telcos and others.
The physical DVR box, however, will still have a small place in the market as the high-end "purist" solution and the low-end European consumer play.