Tim Hortons Inc. (THI) has confirmed that has increased prices in Ontario as of April 7 as a result of higher overall operating costs at its stores.
The price increase mostly applies to beverages and coffee in particular, a company spokesperson said, but customers have been notified with signs for more than a week.
A medium coffee will now cost C$1.22 (excluding taxes), up from C$1.17 previously. The price of a large coffee moves from C$1.31 to C$1.38, and an extra large from C$1.49 to C$1.57.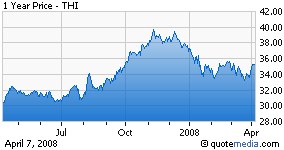 The last price hike for Tim Hortons coffee was in February 2006.
On Friday, BMO Capital Markets said the increases would boost the coffee and donut chain's same-store sales growth.