Qineqt's High Dividend Yield Portfolio
At Qineqt, we have constructed a portfolio with a mix of diversified residential and mortgage REITs of the U.S. financial sector. This, we think, is ideal for a retirement portfolio, since it offers a high dividend yield (12.8%) at a lower risk (beta 0.2). We have tilted our portfolio towards the highest dividend yield stocks within the industry, and recommend 25% weights for American Capital Agency (AGNC), Hatteras Financial (HTS) and Annaly Capital Management (NLY), followed by 15% for MFA Financials (MFA) and 10% for Capstead Mortgage (CMO). The following table gives details of the risk and return that an investor can expect from the portfolio.
Qineqt's High Dividend Portfolio

Stocks

Weight (%)

Beta

YTD (%)

Dividend Yield (%)

Current Price ($)

Mean Target Price ($)

Bullish Price Target ($)

Forward P/E

AGNC

0.25

0.23

23.15

14.4

34.58

32.28

35

N/A

NLY

0.25

0.23

5.2

13

16.79

16.94

20

8.19

HTS

0.25

0.22

10.16

12.4

29.05

29.44

31.5

5.24

MFA

0.15

0.19

20.09

11.4

8.07

7.93

9

8.59

CMO

0.1

0.37

41.01

11.4

0.43

13.95

15

8.1

Portfolio

1.0

0.2

16.7

12.8

21.4

22.2

24.5

 

Data Source: Yahoo! Finance
Note: This should be considered as a part of the overall retirement portfolio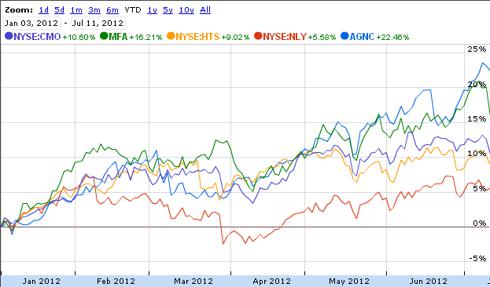 Source: Google Finance
American Capital Agency
American Capital Agency is another large cap name in the U.S. REITs Industry. The Bethesda-based company has a market cap of $10.3b and aims to invest in securities, for which government-sponsored agencies guarantee principal and interest payments. The company primarily has short term borrowings to fund its investments.
The company posted strong earnings for 1Q2012, with EPS of $1.29, beating analyst estimates on cheaper cost of funds, lower prepayments and higher leverage. The company added new investment of $25.9b in its investment portfolio during the quarter, which reached $80.6b.
The stock trades at a significant discount of 50%, with regards to its price-to-earnings multiple of 5.4x. The stock has a beta of 0.23 and a sustainable dividend yield of 14.4%. We say it is sustainable because the company generated $472mn of cash, while it paid $300mn in dividends last quarter. AGNC's dividend yield is the highest among our recommended portfolio of high dividend REITs. AGNC's stock price has appreciated 23% since the beginning of the year, because it offers the combined benefits of attractive dividend yield at a low risk.
The company is expected to benefit from the recent increased activity in the U.S. Housing Market. Since the company focuses on assets with prepay protection, AGNC is one REIT that will not be hit hard by accelerated prepayments in the event of lower mortgage rates.
Annaly Capital Management
Annaly Capital Management, with a market cap of $16.3b, has the largest market cap in our recommended high dividend yield portfolio. The company engages in the acquisition of mortgage pass-through securities, agency callable debentures, collateralized mortgage obligations and other agency guaranteed securities. The company is classified as completely diversified, since it invests in corporate and government credit markets, commercial and residential securities and mortgages, debt and equity capital markets and securities lending.
NLY's last quarter earnings beat analyst estimates largely due to lower prepayments. The earnings were also materially up from 1Q2011. Looking at the financial health of the company, sell side has raised its earnings estimates.
The stock offers an attractive dividend yield of 13%, combined with a low beta of 0.22 offers. The offered dividend yield is significantly above the prevailing 10-year treasury yield. Shares have appreciated in value by about 5% since the beginning of the year.
The company's earnings will be strongly affected by the increased mortgage originations and other favorable U.S. Housing Market-related activities that are mentioned in our earlier article.
Accelerated prepayments through HARP are a potential headwind for NLY. Another risk for NLY stems from the worsening Euro zone crisis. The bank has financing arrangements under repurchase agreements with some of the European banks. If these banks go down, NLY would have a material negative impact.
MFA Financial, Inc.
MFA is a mid-cap REIT, with a market cap of $2.88b. The New York-based company operates in the diversified U.S. REITs Industry. The company invests in agency and non-agency residential mortgage back securities, residential loans and commercial loans.
The company is highly levered with debt largely of shorter maturity. Driven by the ability to obtain cheap funds and attractive investment opportunities, the company, during 1Q2012, was able to invest $419mn in agency securities and $391mn in non-agency securities, making the value of its combined MBS portfolio to be approximately $11.5b. A large proportion (approximately 62%) of the portfolio is invested in agency securities. The company is believed to be well positioned to take advantage of any opportunity that comes its way, including its plans to acquire selective agency and non-agency MBS, since it has $375mn of cash and $518mn of unpledged agency MBS at its disposal.
The stock seems to be attractively priced. It is trading at a discount of 32% with regards to its price-to-book value, and a significant discount of 75% with regards to its price-to-earnings, compared to an average industry peer. The company offers a dividend yield of 11.4% coupled with a cash flow yield of 12.2%, meaning that dividend distributions can be expected to continue in the future. The risk inherent in the stock, as depicted by its beta of 0.19, is low as compared to most of its peers in the industry.
Credit Suisse (CS) reported that prepayments on 30-year and 15-year coupons for the month of June remained faster than expected. Refinancing and prepayments due to HARP are potential headwinds for mREITs like MFA. Since the company does not have substantial prepay protection, increase refinancing and prepayments will cause its amortization of purchase premium to be accelerated resulting in depressed income for the company.
Capstead Mortgage
Capstead Mortgage, a Texas-based company, elected to be taxed as a REIT and invests in portfolios of variable rate residential mortgage pass-through securities, also known as adjustable rate mortgage rate (ARM) securities, guaranteed and issued by government-sponsored agencies.
The company reported strong results for 1Q2012. Its diluted earnings per share of $0.44 increased from $0.41 in 1Q2011. The increase was largely due to an increase in the investment portfolio. However, the spread of 152bps that it earned during the first quarter this year was 100bps below what it earned during 1Q2011. The company is highly levered with most of the borrowings having a maturity of less than 30 days.
The stock is trading at a discount of 26% with regards to its price-to-earnings multiple, compared to its industry peers. It offers an attractive dividend yield of 11.4%, combined with a cash flow yield of 18%. The stock has a low beta of 0.37.
The company invests exclusively in short duration adjustable rate mortgage (ARM) loans. This leaves the company less sensitive to changes in interest rates.
Hatteras Financial Corp
Hatteras Financial, with a market cap of $2.8b, largely engages in investment of hybrid ARM single-family residential mortgage pass-through government-sponsored agency securities. 98% of its portfolio is composed of hybrid ARM securities, while the rest is exposed to 15-year fixed. According to a report by Credit Suisse, the company currently has 50% of its repo funding hedged with swaps against unfavorable interest rate movements. Driven by improved asset yields and fund cost, HTS was able to improve its spreads marginally by 2bps. Analysts estimate the spreads to further improve as new investments are added to the portfolio. However, since the portfolio is funded with short term repos, the net interest margin that the company earns will be hit if short term rates rise.
The offered dividend yield of 12.4% at a beta of 0.22 seems very attractive. The cash flow yield of 13% makes it look even healthier and sustainable. The company's shares have appreciated by about 10% since the beginning of the year.
Conclusion
The portfolio that we have constructed in well diversified, as demonstrated by its beta, while it offers a dividend yield that is substantially above the 1.53% 10-year treasury yield. Overall, the risk adjusted return that the portfolio offers makes it an ideal investment for a retirement portfolio.
Disclosure: I have no positions in any stocks mentioned, and no plans to initiate any positions within the next 72 hours.