CSX Corporation (CSX), together with its subsidiaries, provides rail-based transportation services. It offers traditional rail service and the transport of intermodal containers and trailers. The company transports crushed stone, sand and gravel, metal, phosphate, fertilizer, food, consumer, agricultural, automotive, paper, and chemical products; and utility, industrial, and export coal to electricity-generating power plants, steel manufacturers, industrial plants, and deep-water port facilities.
It is scheduled to report its Q2 2012 results on July 17, 2012, after the bell. In this article I will recap the historical results of the company, latest EPS estimates vs. surprises, latest developments and closest competitors' development.
Technical Overview
The stock has a market capitalization of $23.28B and is currently trading at $22.40 with a 52 week range of $17.69 - $26.27. The stock performance year to date: 7.64%. It is currently trading above 20, 50 and 200 SMA.
Key Metrics
Trailing P/E: 12.76
Forward P/E: 10.87
Price/Sales: 1.96
Price/Book: 2.74
PEG Ratio: 1.33
Total Debt: 9.12B
Annual dividend yield: 2.20%
Return on Equity: 21.74%
Return on Assets: 7.71%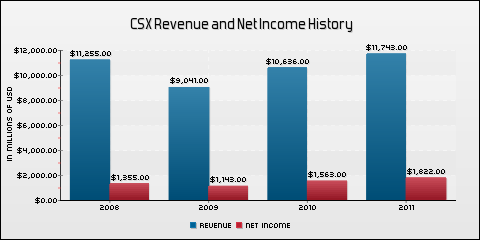 Recent EPS Actuals vs. Estimates
In the last quarter it reported $0.43 EPS, beating analyst estimates of $0.38.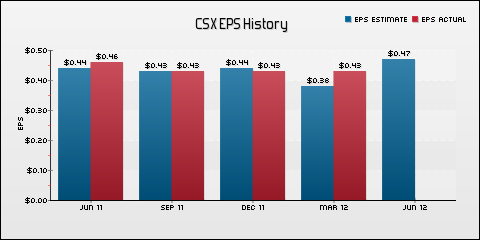 The consensus EPS estimate is $0.47 based on 25 analysts' estimates, up from $0.46 a year ago. Revenue estimates are $3.05B, up from $3.02B a year ago. The median target price by analysts for the stock is $27.00.
Average recommendation: Overweight
Source: Marketwatch
Analyst Upgrades and Downgrades
On April 16, 2012, the company was downgraded from Buy to Hold at Argus.
On March 15, 2012, Barclays Capital reiterated Overweight rating for the company.
On January 24, 2012, the company was upgraded from Neutral to Outperform at Robert W. Baird.
Latest Developments
Competitors
CSX Corp. operates in Railroads industry. The company could be compared to Canadian National Railway Company (CNI), Norfolk Southern Corp. (NSC), RailAmerica, Inc. (RA-OLD), and Union Pacific Corporation (UNP). Below is the table comparison of the most important ratios between these companies and the industry.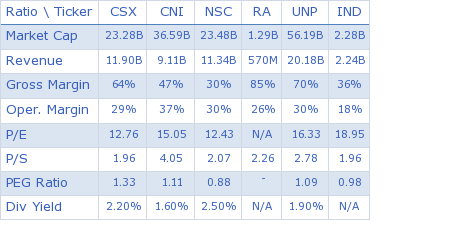 Below is the chart comparison with the stock price changes as a percentage for the selected companies and S&P 500 index for the last one year period.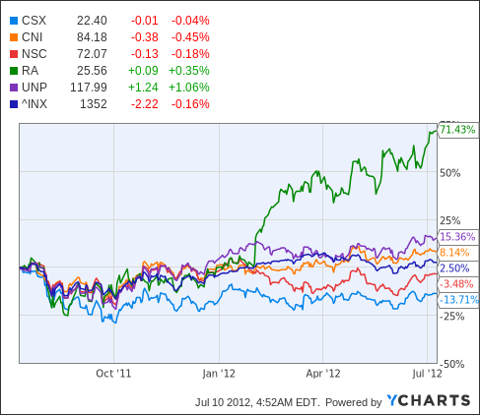 Competitors' Latest Development
Sources: Yahoo Finance, Google Finance, Marketwatch, Finviz, Reuters.
Disclosure: I have no positions in any stocks mentioned, and no plans to initiate any positions within the next 72 hours.