Navistar International Corp. (NAV)'s stock fell by almost 10% after Cummins Inc (CMI), one of the largest diesel and natural gas engine producers, slashed its next quarter earnings forecast by 13% ($5.1 billion-to-$4.45 billion). CMI forecasted that future U.S. truck demand for the year was weak, and the growth in emerging markets was not as accelerated as anticipated.
This announcement will have a significant impact on NAV's stock, as the firm was relying on future growth in the emerging markets to come out of troubled waters. NAV's YTD performance of -42% summarizes the story.
NAV has had an eventful first half for the year, and it heavily relies on the second half to improve its earnings, after showing losses for two consecutive quarters and missing earnings by 397% and 264% in the last two quarters respectively. However, the slow forecasted growth in Brazil and India means that the incremental revenue expected from these markets may not be realized. This, coupled with the internal problems faced by NAV such as potential hostile takeovers, engine compliance issues and towering warranty costs, gives us the notion that NAV is not expected to rise this year. Therefore, we recommend to short it.
Introduction
Navistar International deals in the manufacturing of trucks, military vans, buses, truck engines and truck components. The following shows the sources and associated percentages of revenue for the firm, extracted from 10-K. The first chart gives a holistic view of the four divisions, whereas the second chart tells us about the sub divisions within those four divisions.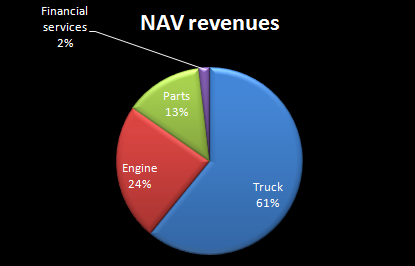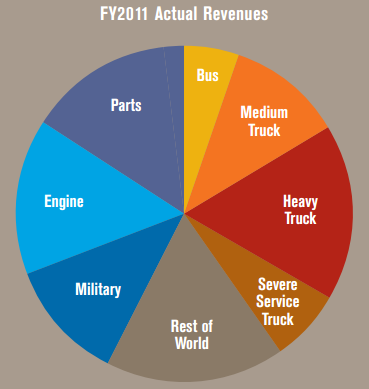 *Rest of the world means all the vehicles/parts being sold off in places other than Canada and US.
Both charts clearly signify the importance of truck sales for the firm.
However, the firm has been making negative margins in both trucks and engines for the last two quarters. Following table shows the situation:

Click to enlarge
(Click to enlarge)
The firm, in its June's presentation, declared that its target was to achieve a total of $575-$725 millions adjusted margin in the second half of 2012. They claimed that their increasing penetration in China, India and Latin America would help them achieve these goals. However, these goals seem highly unrealistic, in light of the current affairs with which the firm has to tackle, as well as the gloomy macro picture for this year.
Expectations from Emerging Markets
Yesterday, CMI's revenue outlook has declared that the demand from Brazil, China and India is expected to decline this year. This has had a significant impact on NAV, as it was relying on the demand from these markets to make up for its first quarter loss. Following chart shows the current exposure of the firm to different geographical areas: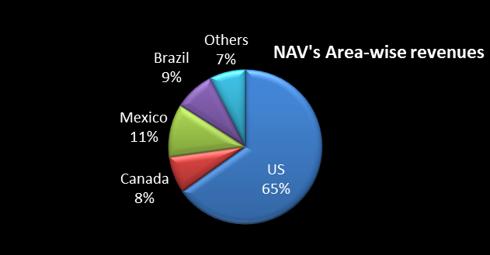 Click to enlarge
(Click to enlarge)
Brazil's current share is third in rank. However, in the presentation, the firm had anticipated an incremental revenue of $200 million from Brazil and India from this year onwards, as they increased their product range this year in the aforementioned areas. This seems highly improbable, given that according to a Credit Suisse report, Brazil's heavy vehicles' demand has fallen by 27% this year (YoY). The reason given is the financial crisis that has affected the overall world economy. Another reason is that the Brazilian government is delaying the payment of subsidies to truck users.
Chinese GDP growth has also slowed this year.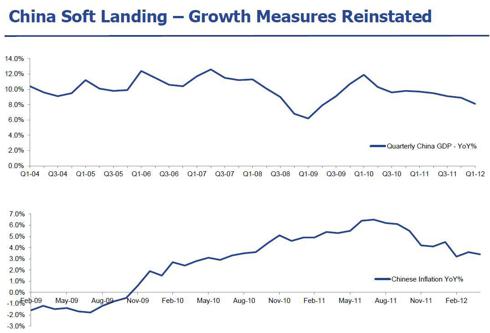 Click to enlarge
(Click to enlarge)
NAV, however, has fresh air to breathe, as the Chinese government intends to spend around $73 million in order to upgrade their school buses, in response to public anger over low quality school buses that led to casualties in accidents. NAV expects to sell 50,000 buses in China with the help of local Chinese manufacturer, Anhui Jianghuai Automobile Co.
U.S. Market
The firm gets around 60% of its total revenues from the U.S. market. However, CMI's recent announcement on a reduction in the overall U.S. truck demand, means that the firm, with 48% market share in school buses, 41% in medium trucks, 34% in severe services and 17% in heavy truck services in the U.S., is heading towards yet another loss-making quarter. To add to the woes, Bloomberg industries announced today that truck makers need to reduce output in the year's second half, as demand is not matching the supply.
Engine-Related Issues and Associated Costs
NAV CEO Daniel Ustian tried his level best for two years to get the Exhaust Gas Recirculation (EGR) engine certified from the U.S. Environmental Protection Agency (EPA), but did not succeed. The EPA wanted NAV to add certain raw materials to the engine that NAV did not want to, due to the costs attached to it. As a result, the firm has to pay a fine every time its sells the engines, as they are not a compliant to the recent anti-pollution standards. Not only this, the firm has to offer heavy discounts to customers in order to induce them to buy the engines. Also, these engines have become old and this is why the latest figures for warranty costs were an enormous $104 million. In this respect, competitors have also filed litigation against the firm, and if it loses, which is highly probable, the firm will have to pay $1,919 per engine sold.
The firm has finally decided to use the Selective Catalytic Reduction ((NYSE:SCR)) technology that is being used by its competitors. This decision has reduced the management's credibility, as the management had time and again assured that the firm would stick to the idea of using EGR engines. SCR technology development will eat a lot of money and it will take at least three months for it to get approved. This can prove to be fatal for a firm that has already made back to back quarterly losses.
Take Over Threat
The firm recently avoided a hostile takeover, however, the firm managed to avoid such a fate by introducing the Shareholders Rights Plan. Yesterday, Franklin Resources (BEN) claimed to have an 18.8% stake in the firm. However, the stock is declining amidst these activist investors, and the underlying fundamentals are so weak that a complete turnaround of the firm is not expected to be achieved. Carl Icahn has also raised his stake to 12%.
Escape Route/Possible Turnarounds
The firm has a couple of easy ways out of the mess in which it finds itself right now:
Outsource engine manufacturing to CMI till their engine is approved by the EPA, so that the firm can avoid warranty costs.
Seal a deal with Fiat Industrial (NYSE:FI) the truck manufacturer, or Volkswagen (OTCPK:VLKAF), which can fetch the firm $50 or $60 per share.
The firm is actively involved in production of hybrid delivery trucks and has recently signed a deal with Clean Energy Fuel Corp (CLNE) to provide easy gas fueling to NAV customers. In case the divergence between oil and gas prices continues to grow, the industry might shift to natural gas driven trucks, which can be a source of turnaround for the firm.
Valuations
The firm has negative equity, and enormous amounts of debt that need to be paid to lenders (Debt/EBITDA ratio has crossed 4x vs. 2.4 last year), and negative free cash flow which is why Fitch has recently downgraded it to B+ from BB-. The firm gave earnings shocks in the last three quarters, and the stock is expected to give 50% lesser earnings this year as compared to the last year. The firm has an EV/EBITDA of 10.87, PEG ratio (estimates of five year) of 32 and operating margins of less than 1%, which shows how weak the underlying fundamentals are.
Disclosure: I have no positions in any stocks mentioned, and no plans to initiate any positions within the next 72 hours.