There have been a number of changes at Syntax-Brillian (BRLC) in the past week, but the real question remains: will it be enough to turn around the flailing LCD television manufacturer?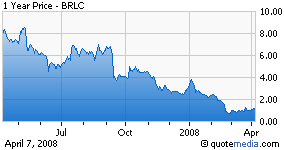 First, CFO Jack Hodgson resigned at the end of March. This shouldn't surprise anyone, as his resume was filled with numerous short stints at the position and thus indicated he was meant to be a transitional CFO at best. This process could have been accelerated by the fact that his options grant (110,000 shares) was likely far underwater, as the stock has fallen approximately 70% since October 1st, 2007 when Hodgson assumed the CFO position.
Next, CEO James Li took a voluntary salary cut to $1, putting him in the same league as Apple's (AAPL) Steve Jobs and Google's (GOOG) Brin and Page. This is perhaps the first and last parallels that can be drawn between that set of companies, and while Li's salary amounts to just $240,000/year and thus isn't going to free up the significant cash flow Syntax-Brillian desperately needs, I like the symbolism behind the move… especially given that most CEOs believe in a disconnect between their company's performance and their own pay.
The third announcement was a deal with China-based Compal by which Compal will begin producing a large order (300,000 units) of Olevia-branded LCD televisions. It seems that Syntax-Brillian is looking to navigate around its highly constrained working capital by becoming an asset-light manufacturer that will outsource its main production, utilize its patents to add value, and pass along the brand name. While this sounds like a favorable business model, my main concern is that the Olevia name is not yet strong enough to boost Syntax-Brillian into the top echelon of television manufacturers. Still, this approach could relieve the company's main problem – capital constraints – and we've never really gotten the chance to see how well Syntax-Brillian can execute with sufficient capital.
So to return to the main question: are these changes material enough to make me reconsider my position that BRLC is nothing but speculation? No.
Syntax-Brillian is a "show-me" stock in what I still regard as a "show-me" market. Plus, the financials aren't straight and too far out-of-date, and how can you try to get an idea of where a company (especially one in such a state of flux) is when the last financials you have are more than six months old? Eventually (hopefully?) updated financials will be released, and that is going to be a crucial moment for this company. Taking a position in front of that is just a gamble. And, try as I might, I can't get any indication from the company that the earnings release is in sight.
Disclosure: none