With long-term Treasury bond yields at record lows, one can say that the bull market for Treasury bonds has not ended. However, this article brings forward points to prove that the bull market for U.S. government bonds is over and interest rates should start to trend higher from here. Also discussed are the investment options and strategies assuming that the bull market for Treasuries is over.
In a bull market for any asset class, there is significant interest shown by investors in terms of buying and owning the asset class. This can be considered very relevant for Treasury securities in an economic environment, which can be considered to be favoring risk-free assets like Treasuries.
Considering this, it would be interesting to see the largest holders of Treasury securities and the increase or decrease in holdings of Treasury securities for these holders in the last three years.
The first chart gives the largest holders of Treasury securities as of March 2012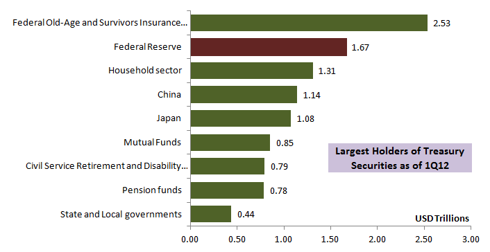 Click to enlarge
The second chart gives the increase/decrease in holdings of Treasury securities in the last 3 years (March 2009 to March 2012) for the above shown major holders of Treasury bonds.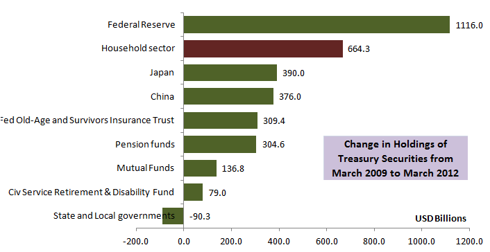 Click to enlarge
Couple of observations from these two charts -
As of March 2012, 41% of U.S. sovereign debt was held by the Federal Reserve and under intra governmental holdings.
The Federal Reserve has been the largest buyer of U.S debt in the last three years followed by the household sector. It is also important to mention here that the household sector is some kind of mystery buyer of U.S. debt as it excludes mutual funds, pension funds, ETFs, life insurance companies, money market funds and retirement funds. I would not be surprised to know that the government or the Federal Reserve System is mopping up debt under the name of the household sector.
The most critical point here is - The major buyer of government debt has not been international investors or even local investors. Therefore, the demand, which leads to rising bond prices and lowering yields, is coming from the government sector and the Federal Reserve purchases.
A bull market or a bear market can only be determined if free markets are allowed to function. However, the current scenario is clearly a case of impacting yields through purchase of bonds by the government or related institutions.
It can be compared with a stock, which is being sold by investors and large amount of money is being pumped in by the promoters to keep prices steady or rising. One cannot say that the stock is a buy or is in a bull market in such a scenario.
Therefore, the Treasury bull market was effectively over when the yields touched lows in December 2008 after the Lehman collapse. Had there been no government intervention, yields would have trended higher from December 2008 onwards.
In my opinion, the Federal Reserve System will become the largest holder of government debt in the next few years and it would not be surprising to see international investors keeping their holdings steady or even selling Treasury bonds gradually.
Further, this scheme of buying bonds and keeping yields artificially lower cannot go on for eternity. I expect yields to trend higher from here as we experience gradually higher inflation over the long term. For sure, the real interest rates will always remain negative.
Therefore, from a long-term investment perspective, Treasuries need to be avoided and can be considered as a trading option more than a long-term investing option.
Also, corporate bonds look more attractive and relatively less risky and I like the Vanguard Long-Term Corporate Bond ETF (NASDAQ:VCLT).
Gold is a must for all investors and SPDR Gold Trust ETF (NYSEARCA:GLD) is a good buy for exposure to gold.
With more and more of quantitative easing expected, equities might not perform too badly. Also the corporate sector looks relatively healthy with many large companies having globally diversified operations. I personally like the WisdomTree Dividend ex-Financials Fund (NYSEARCA:DTN), which avoids exposure to the financial sector.
In conclusion, the Treasury bond market is still being artificially propped up to avoid the high cost of funding. However, this scheme might not last long and long-term holdings of Treasuries can be a disaster. Investors need to diversify into more quality assets than the supposedly risk-free Treasury securities.
Disclosure: I have no positions in any stocks mentioned, and no plans to initiate any positions within the next 72 hours.