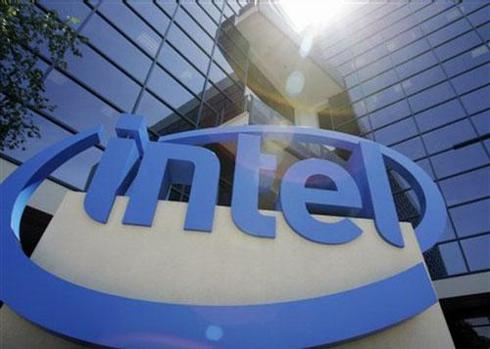 Intel (NASDAQ:INTC) has a rock-solid balance sheet. The company dominates the semiconductor market, has considerable emerging market exposure, and the China Investment Corporation may be in the market for Intel shares.
However, there is currently a bit of exuberance in the stock. As investors fled the negative real yields of "safe" sovereigns into established, dividend-paying equities like Intel, the company became short-term overvalued.
Technical:

INTC is toward the top of its medium-term range, and after a global correction would be an attractive buy at the $20 support level, and failing a reversion to that and a balmier outlook, at $23. Long-term, INTC is well situated in the semiconductor and cloud computing space, and may foray deeper into the mobile space in the near future.
The fundamental story is slow moving, but the fundamentals always win out long-term: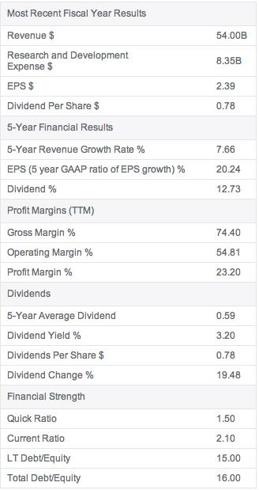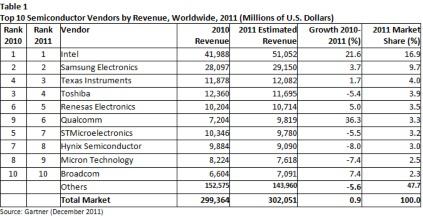 Percentage of market share = 16.9%, more than its top two competitors combined.
And lets not forget, Intel pays a 3.2% dividend. Compare that to the 1.55% of 10-year Treasury, which is undeniably in a Federal Reserve-induced bubble. The central bank bought 61% of Treasury debt in 2011. This trend cannot last, according to Lawrence Goodman, a former Treasury Official and current president of the Center for Financial Stability.
Intel is capitalizing on Apple (NASDAQ:AAPL) computer sales without (as much of) the dumb-money buzz driving up the P/E. In the next few years, if Qualcomm's (NASDAQ:QCOM) shaky supply chains can't hack it supplying processors for the iPad, it's probable that Intel and Apple will do business.
Though Microsoft (NASDAQ:MSFT) technology has been characterized by poor original development and rampant intellectual property theft since its inception, some people still prefer Windows because it is hegemonic and all they know. The more expensive Surface Pro tablet may garner demand when it is finally released, and it has Intel inside.
However, these tablet considerations are petty next to the emerging market demand for electronics more broadly. Consumer electronics have shown surprisingly little elasticity in downturns and are expected to steadily rise long-term.

Long view:
Intel is in the ephemeral and bubble-prone tech sector, but they own hard assets that hedge against currency devaluation and credit crises. CPUs will be in demand, especially as EM middle classes insist on burying their faces in tablets and smart phones like the West has.
The current headline-grabbing litigation in the EU: It's a humongous fine, historically, but Intel is a giant and can weather the attack. Intel's legal team will likely reduce the fine, or even have it annulled entirely. The case is tenuous, but even if Intel is fined for the maximum $1.33B, it's only 10% of cash on hand.
Fine: $1.33B. Cash on hand and short-term investments: $13.75B.
This lawsuit is a rather nice catalyst to get the froth out, and will pave the way for a buying opportunity, but not quite yet. Given the global growth slowdown, including China, further declines are to be anticipated.
In the future, cloud computing will replace physical hard drives. The great divergence between East and West is closing, and this portends an expansion of electronic demand.
Li Daokui, of the People's Bank of China monetary policy committee, let this slip at the World Economic Forum last November:
The incremental parts of our of our foreign reserve holdings should be invested in physical assets...

We would like to buy stakes in Boeing, Intel, and Apple, and maybe we should invest in these types of companies in a proactive way.

Once the US Treasury market stabilizes we can liquidate more of our holdings of Treasuries.
To reiterate: Intel could be in for a bumpy ride along with the global economy, but has a strong balance sheet and exposure to the emerging market. Buying at the current level is risky given the macro picture, but this is one equity the dips of which should be bought.
Disclosure: I am long INTC. I have a small position currently, but will buy more at target levels of $20 (bearish outlook) and/or $23 (bullish outlook).