This year I decided to participate in a contest among bloggers with financial-focused websites. The rules are simple:
Four stocks picked at the beginning of the year
No trading allowed (buy and hold)
Canadian or USA stocks
Dividends count in end-of-year yield calculation
Since I do not promote individual stocks on my blog, I chose a diversified ETF portfolio instead. My choices were:
My logic for this selection of ETFs can be found here. For a benchmark, I am using Vanguard's S&P 500 ETF (VOO). First-quarter results can be found here.
Here is a summary of the 2012 Q2 (ending June 29, 2012) and YTD results. All results include re-invested dividends but exclude trading cost and taxes.
ETF
Q2 2012
Return
2012 YTD
Return
DTN
-0.80%
3.94%
VNQ
3.62%
12.57%
BDCS
5.98%
18.61%
DBE
-16.01%
-9.70%
PORTFOLIO
-1.71%
6.36%
VOO
-2.75%
7.58%
Includes re-invested dividends but excludes trading costs and taxes.
For the second quarter this diversified portfolio outperformed the S&P 500 with a -1.71% return vs. the -2.75% return of the investable S&P 500. The outperformance is due to three of the four holdings.
Limiting exposure to the financials with WisdomTree Dividend ex-Financials Fund helped for the last three months. The financial sector saw a sell-off after JPMorgan Chase (NYSE:JPM) reported it lost $2 billion on a credit derivatives trade, which resulted in CEO Jamie Dimon testifying in front of Congress. There are reports the loss could be even greater. Also, Barclays (NYSE:BCS) was fined $450 million for inaccurately submitting Libor rates from 2005 to 2009, which resulted in CEO Bob Diamond stepping down from the company (article). The dividend from DTN was also impressive last quarter. DTN paid $10.70 (with a $1,000 investment) vs. a dividend of $22.00 (with a $4,000 investment) from VOO. I think my thesis for avoiding the financial industry is a sound choice and is still valid, even after the strong first quarter.
S&P 500 sector performance for the three months ending July 6, 2012 (courtesy of thumbcharts.com):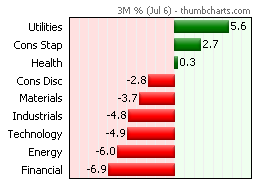 Year-to-date S&P 500 sector performance ending July 6, 2012 (courtesy of thumbcharts.com):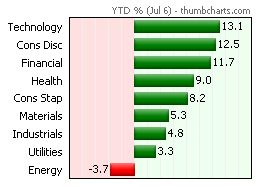 The Vanguard REIT Index ETF continues to perform well and has a strong dividend. According to Yahoo!Finance, the top ten holdings are all well into positive territory for the year.
The superstar YTD is ETRACS Linked to the Wells Fargo Business Development Company Index, up over 18%. This return is helped by a 9% yield. This ETF holds 26 business development companies. Its largest holding (at 10.13%), American Capital, Ltd. (NASDAQ:ACAS), is up 50% year to date. My thesis for an alternative means of exposure to the financial market is paying dividends (pun intended). I believe business development companies will do well for the rest of the year. I do hold Triangle Capital (NYSE:TCAP) and Prospect Capital (NASDAQ:PSEC), which are 4.53% and 9.83% of the index, respectively.
Finally, my inflation hedge was PowerShares DB Energy Fund, which underperformed this quarter and year to date. The use of an energy-specific commodity ETF was a play on a growing economy (increasing demand) and a hedge against geo-political tensions. Tensions in the Middle East have settled, or at least moved from the front pages for the time being. Supply of oil has continued to increase (source) in the U.S. and Middle East. Saudi Arabia has continued to increase oil output, to drive down prices, which it hopes will hurt Iran financially since Saudi Arabia can tolerate cheaper oil better than Iran can (source).
If this were my actual portfolio, I would leave three of the four assets untouched. I might ponder taking some profits from BDCS if it reached 20% before the end of the third quarter. I would also remove DBE and replace it with a 50/50 holding of PowerShares DB Commodity Index (NYSEARCA:DBC) and iShares Barclay TIPS Bond (NYSEARCA:TIP). DBC is a more broad commodity index. If an investor believes the Q2 reporting season will have companies missing estimates and lowering guidance, replacing DBC with SPDR Gold Shares (NYSEARCA:GLD) would be reasonable, as I believe that would be the catalyst for the Federal Reserve to take action.
Here is a summary of the performance of GLD, TIPS, DBE, DBC.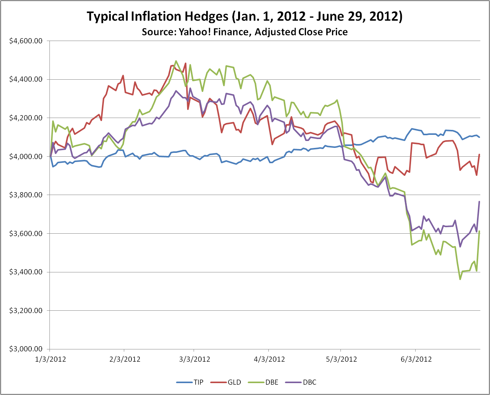 Disclosure: I am long VFIAX and VGSLX in a retirement account. I am long VNQ, TIP, TCAP, PSEC and BDC in a taxable account.