Market Recap: The market continued its weak streak for the fifth day after the Fed shocked us by not doing any more QE (sarcasm). Not sure why the market expected meeting minutes from weeks ago to show something we already knew. Yet, the market dropped hard after the Fed announcement to continue its weak streak, and we are now sitting at the 50-day MA on the S&P (NYSEARCA:SPY). This area is where we were afraid the market would head this week, and now, we are sitting at make or break time. Wholesale inventories and trade balance were released as well this morning and did not show much excitement as well. The drop in imports from China may be the most concerning aspect of the trade balance report. Goldman Sachs dropped its GDP estimates twice on the news.
Moving into the big earnings, the market is sitting at key support and either this was an amazing flush before a giant move higher or we are about to see Summer 2011 Redux. The market will get key earnings from Marriot (NYSE:MAR) tonight and Infosys (NASDAQ:INFY) and Progressive (NYSE:PGR) tomorrow morning that should start to give us some insight into just what we can expect for earnings season.
Two Trades
Two trades we like right now are a reverse iron condor in Direxion Daily Financial 3x Shares (NYSEARCA:FAS) as well as earnings trade in DIRECTV (DTV). With JP Morgan (NYSE:JPM), Wells Fargo (NYSE:WFC), Bank of America (NYSE:BAC), and Citigroup (NYSE:C) all reporting before Jul21 expiration, we are expecting financials to be moving! If they surprise with some solid reports, financials could really turn this ship around quickly. Yet, at the same time, this group could see a healthy bit of selling if earnings are weak. We can get a Jul21 84/83 Bear Put Spread and 86/87 Bull Call Spread for about 0.88, which gives us a 14% gain if FAS moves outside of 83-87. Additionally, we like DTV. It was one of our top picks for earnings season, and we believe the issue with Viacom (VIA.B) is a short-term one. The long-term prospects are great for DTV, and we believe the current discounting going on from the VIA issue will be resolved in no time.
Trade #1: FAS, Jul21, Reverse Iron Condor
Trade #2: DTV, Long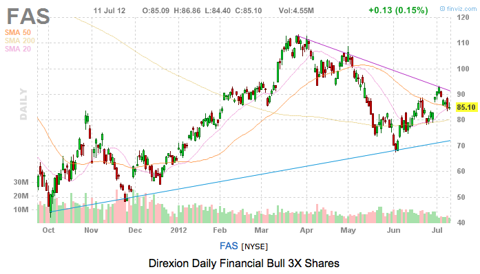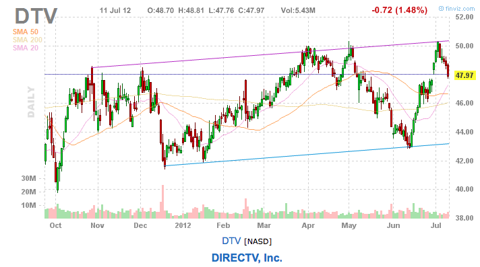 Tomorrow's Outlook
The market made a nice rebound off the 50-day MA, and we believe that level should hold into Friday's JPM and WFC announcements. So, we are expecting a pretty flat move tomorrow. Potentially, some of the undervalued companies with solid fundamentals could be accrued tomorrow. Initial jobless claims will be key to the market as employment is yet another issue causing some fear for the market. Outside of that, we have a big announcement from Bank of Japan tomorrow with its rate decision as well as ECB monthly report as well as eurozone Industrial Production. We think that we may see a green day tomorrow into earnings on Friday but do not expect much. A strong report from initial jobless claims and eurozone report would go a long way.
Oxen Group Moves
We had a decent day in the market. We exited a portion of an Under Armour (NYSE:UA) bear call spread for a 5% gain. We also took a nice 3% gain on our buy of MAKO Surgical (NASDAQ:MAKO) from our Goldman portfolio. We had to take a stop loss on our eBay (NASDAQ:EBAY) long Dow Jones (NYSEARCA:DIA) short position as well as took a small loss on Whole Foods Market (NASDAQ:WFM). We added the above FAS reverse iron condor to Options Portfolio as well as a long Tesla (NASDAQ:TSLA), short Tiffany (NYSE:TIF) position to Short-Term Equity.
We have the following positions:
In our Short-Term Equity Portfolio we are long Tesla, Dollar Tree (NASDAQ:DLTR), Ashland (NYSE:ASH), Expedia (NASDAQ:EXPE), Whole Foods Market . We are short Tiffany , Pall (NYSE:PLL), McDonald's (NYSE:MCD), Life Sciences (NASDAQ:LIFE).
In our Options Portfolio, we are long Starbucks (NASDAQ:SBUX), Dicks Sporting Goods (NYSE:DKS), Dollar General (NYSE:DG) and AutoZone (NYSE:AZO). We are short Aflac (NYSE:AFL), Garmin (NASDAQ:GRMN), and Under Armour . We have a reverse iron condor on Apple (NASDAQ:AAPL) and Direxion Daily Financial 3x Shares .
In our Earnings Alpha Portfolio, we are long Seagate Tech (NASDAQ:STX), Apple , Capital One (NYSE:COF), Disney (NYSE:DIS), Ashland , Vertex (NASDAQ:VRTX), Intuitive Surgical (NASDAQ:ISRG), Marriott . We are short Pitney Bowes (NYSE:PBI), Schlumberger (NYSE:SLB) and Walgreen (WAG). We have a reverse iron butterfly in Decker's Outdoor (NASDAQ:DECK).
In our Goldman Sachs Up/Down Paper Portfolio, we are long Hillshire (NYSE:HSH) and State Street (NYSE:STT).
Chart courtesy of finviz.com
Disclosure:
I am long PNRA.