By G C Mays
The market was expecting a reduction in U.S. corn (NYSEARCA:CORN) production estimates due to the summer drought. However, the USDA outdid itself when it lowered production estimates from what was potentially the largest crop ever to 329.4 million metric tons, a 12 percent reduction. Higher corn production estimates in the European Union and Canada do not come close to offsetting plummeting U.S. production.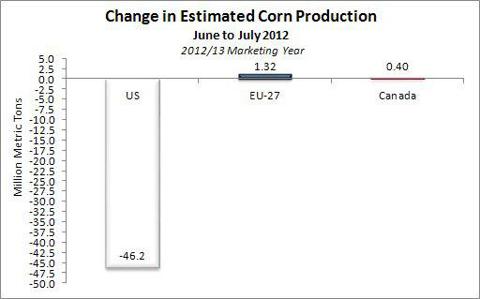 Source: The Mays Report
Although the drop in production is drastic, 329.5 million metric tons is the second-highest total ever in the U.S. Global production at 905.2 million metric tons is still at all-time highs.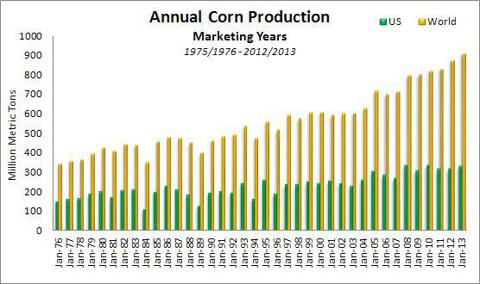 Source: The Mays Report
The expected fall in available corn supplies has caused prices to soar, the USDA raised the season average price range for the 2012/13 marketing year to $5.40 to $6.40 per bushel from $4.20 to $5.00 per bushel last month. In addition, the November 2012 corn contract surged 30 percent to $7.30 a bushel between June 19th and July 9th before pulling back to a recent intra-day price of $7.04. In my opinion the market realizes that the world remains set to produce a record amount of corn despite today's huge revision of U.S. production estimates.
The USDA has lowered export estimates by 7.6 million metric tons as higher prices and a stronger dollar will create competition with South American exporters as they try to unload their second crop corn.
As I have written about recently, this surge in stock prices of the fertilizer companies is not based on the fundamentals of the fertilizer business, but a rare speculative gift from the market. As I wrote on July 10th, the companies that produce nitrogen-based fertilizers have seen gains between 14% and 21% between June 19th and July 9th. Rentek (NYSEMKT:RTK) is up 21%, while its subsidiary Rentek Nitrogen Partners LP (NYSE:RNF) has gained 20%. CF Industries (NYSE:CF) and its wholly owned subsidiary Terra Nitrogen (NYSE:TNH) are up 14.5% and 17.8% respectively while CVR Partners (NYSE:UAN) has advanced by 17.2 percent. They held on to those gains today.
We could see yet another reduction in corn production estimates next month. However, protecting the profits on your summer gift courtesy of the weather with trailing stops or perhaps even long dated puts if you are a long-term investor is prudent in my opinion. The stock market is not known for bearing gifts that just keep on giving.
Disclosure: I have no positions in any stocks mentioned, and no plans to initiate any positions within the next 72 hours.