Commodity Chart of the day - Daily Corn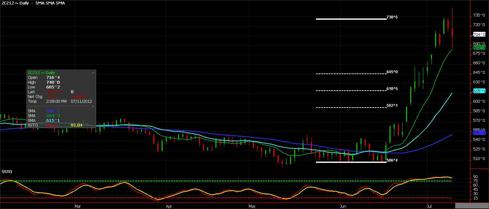 Adverse weather has been the main culprit causing ag prices to scream higher in recent weeks as seen in the corn chart above. In the last three weeks corn has gained over $2/bushel appreciating almost 50% high to low.
I've advised traders to exit longs and it may be premature but after this type of move I anticipate a correction when it comes to be dramatic. Today's market action is indicative of an interim top with a near 70 cent trading range, $3,500 per future contract. The fact that a higher trade was rejected on a bullish USDA report day is indicative of a possible reversal as well.
On the lows one can see that prices came very close to the 9 day MA signified by the green line. My expectation is that we could see a trade lower and I suggest using the Fibonacci levels as support targets. Those long futures may wish to employ option strategies if not willing to exit longs. For instance a possible scenario would be to either sell calls or buy puts against open long future positions.
Risk Disclaimer: The opinions contained herein are for general information only and not tailored to any specific investor's needs or investment goals. Any opinions expressed in this article are as of the date indicated. Trading futures, options and Forex involves substantial risk of loss and is not suitable for all investors. Past performance is not necessarily indicative of future results.
Disclosure: I have no positions in any stocks mentioned, and no plans to initiate any positions within the next 72 hours.