Shares of Advanced Micro Devices (NYSE:AMD) are setting up well for short traders after the bell Monday night. After-hours traders are selling the stock after the semiconductor company surprised investors after the bell with a substantial staff reduction and lowered guidance. Shares of AMD were down 2% in active after-hours trading.
The last time the company issued a similarly reduced outlook was back in March, 2007. The stock fell 2% in overnight trading and fell further the next day.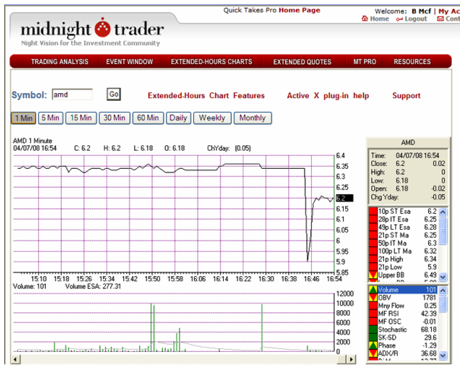 AMD After-Hours Chart
AMD expects revenue for the first quarter ended March 29, 2008 to be approximately $1.5 billion, a 22% increase compared to the first quarter of 2007, and down 15% compared to the fourth quarter of 2007. The decrease is due to lower than expected sales across all business segments. AMD had previously anticipated first quarter revenue to decline in line with seasonality. The Thomson FC mean is for $1.6 billion.
In addition, AMD announced plans to adjust its cost structure by reducing its workforce by approximately 10% by the end of the third quarter of 2008. As a result of these reductions, AMD expects to record a restructuring charge in the second quarter of 2008. At the time of this release, AMD is unable to determine the estimated amount of the charge as the details are still being finalized.
AMD is due to report full results after the bell on April 17.
Disclosure: None