Here are six great biotech companies where the best strategy may be to ring the register, maintain your hold, buy-buy-buy, or come back to them later. Up front, keep in mind, this article is focused on technical indicators, especially suited for investors who like to day-trade biotech stocks.
1. Pharmacyclics (NASDAQ:PCYC) = Ring the register!
Pharmacyclics has been on an amazing run. If you got in when I first recommended the stock in the $20s, hopefully you've thought about ringing the register. The potential downside and a shaky global market could result in a 50% retrace in a range below $40/share. I suggest waiting a few days to see where it settles out.
Click to enlarge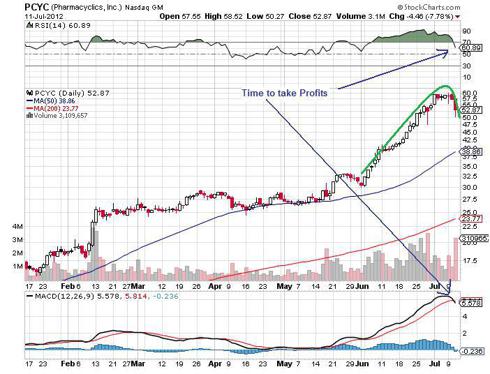 I'm definitely not against Pharmacyclics, but for technical reasons, it is no longer a good buy unless you want to run the risk of clinical trials. My suggestion is: You may want to ring the register, bank your profits, and wait to see how far the stock retraces before buying back in, but that stated: Investors buy and/or sell at their own risk.
2. Onyx (NASDAQ:ONXX) = Hold or wait to buy!
While not every gaps fills, it seems that sooner or later most do (or least in part). For that reason, it might be a good idea to wait a week or two before buying this stock. Long-term (time) holders may want to sweat it out, but I think Onyx will eventually revisit the gap zone.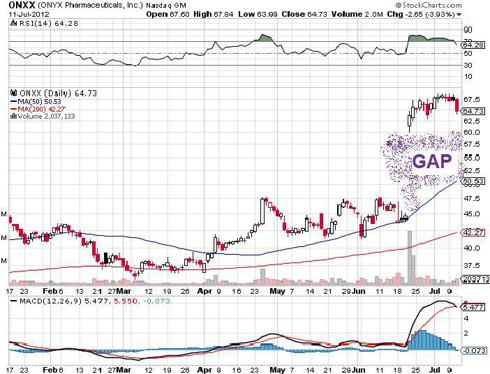 What's hard for the faithful is reading that their stock will eventually go down, but retracing is natural, even good. Yesterday's action demonstrates that Onyxx may have over-run its market and will at least dip back into the $50s. Keep in mind, this is purely a technical viewpoint, but I think a savvy investor could get into this stock for around $50/share if he or she is patient.
3. Arena (NASDAQ:ARNA) = Cash in and move on!
Arena's had its day. It's time to realize that and go trading somewhere else, unless of course Arena dips back into the $8/share range. I'll admit I thought the hype around the weight loss drug stock might have caused it to soar before coming back to planet Earth, but all the enthusiasm was already baked in. There are far more lucrative risk-reward biotechs, then to hang around Arena. Hopefully if you bought into the stock when it was in the $2 range, you've long moved on. Remember, pigs get slaughtered.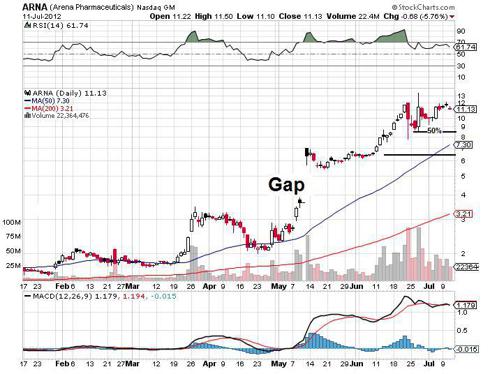 Looking at the chart, there's a lot I don't like. I think Arena could very easily revisit the $8-9/share range in heart-beat especially with no robust stock-moving profits coming in as the roll-out gets in gear. Plus, that gap zone concerns me: throw in two quarters and low revenues, the market will turn bearish. At this point, I wouldn't touch Arena despite its popularity. I welcome contrarian opinions as each investor must arrive at his/her own conclusion.
4. Akorn (NASDAQ:AKRX) = Enjoy your profits!
Akorn looks to be taking a breather at the top of a run. If you were fortunate enough to buy around $11/share, this is the time to enjoy your profits for being so wise and discerning.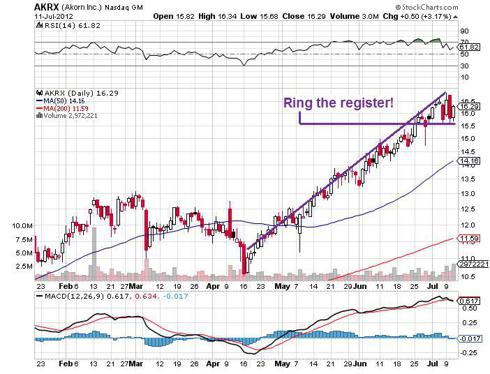 People who are driven by a long-term (time) hold mentality find it hard to let go and ring the register. Technicals traders do it instinctively. Yesterday's move confirmed to the $11 buyer that this may be a great time to take your money elsewhere. Remember, what you buy and/or sell may or may not agree with technical chart observations.
5. Questcor (QCOR) = Buy! Buy! Buy!
You have to love the great biotechs that the market decides to tank so you can jump in and buy! Buy! Buy! This is a good example of buying in fractions and $38-$43/share looks to be the best area. Of course, that assumes the stock will drop lower, so a buyer may want to wait to see where it settles.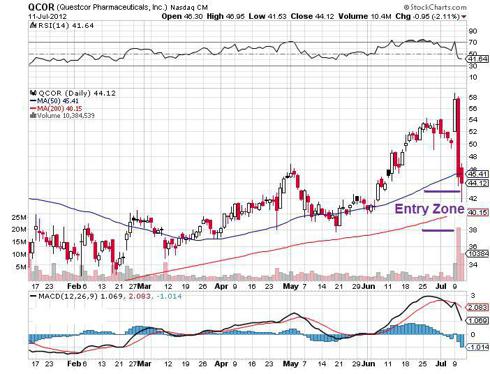 Look back that $58/share top as a great lesson on getting over your love affair with the stock and being brave enough to ring the register. Unfortunately, pigs get slaughtered or lose most of their gains. It's happened to just about everyone, so if it's happened to you, don't worry, just learn your lesson.
6. Spectrum (NASDAQ:SPPI) = Buy and hold!
Spectrum's had a great run, but is it over? The technical chart may suggest so, but this an example where my bullish outlook on the stock sees a good possibility for a retrace, then later resumption towards $30/share. This illustrates how technical trading can get tricky.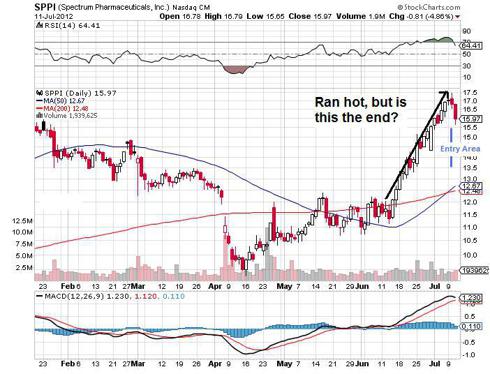 If you're not in the stock, one approach would be to wait to see if it dips into the $13.50-$15.50/share area, but if you're holding long-term (time), then you may just want to sit the volatility out, especially if you think it could eventually head towards $30/share.
Trading On The Technicals Below $5/Share
Technical trading isn't as easy as it appears. The market frequently ignores what appears logical and can frustrate the buyer or seller. Nevertheless, looking at a chart from a distance can also help you decide if it's time to buy or sell, or if it's a good time to get in, or should you wait.
Given the weekly volatility of the overall market, I think studying the technical indicators is an important skill. While some will adamantly disagree with my approach, I have applied some of the same principles to biotech stocks below $5/share.
Not too long ago, I entered Zalicus (ZLCS) because the technical chart convinced me that it had bottomed and with a little market momentum very happily rung the register. I'll look forward to future opportunities with Zalicus once I'm convinced the technical chart is aligned with corporate progress.
Biotech day-traders may want to follow me. I am currently heavily invested in Antares (NASDAQ:ATRS), a $4.72/share biotech that I think is heading towards $10/share before the year-end. Finally, investors need to be careful and realize along with the volatility of the market, reading the technical charts is not 100% full-proof, but still I think very helpful.
Disclosure: I am long ATRS.
Additional disclosure: Investors buy and/or sell at their own risk. I declare that I may day-trade at any time any stock mentioned in this article. For me 'long' is until I sell. I do not 'short' stocks.