Rohm and Haas Company provides various specialty materials primarily for use in the building and construction, electronics, packaging and paper, industrial, transportation, household, personal care, water, and food markets.
The company is a dividend aristocrat as well as a major component of the S&P 500 index. From 1998 up until 2007 this dividend growth stock has delivered an annual average total return of 8.20 % to its shareholders.(Click images to enlarge.)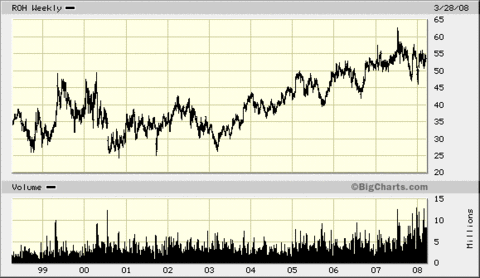 Click to enlarge
At the same time company has managed to deliver a mediocre 2.4% average annual increase in its EPS since 1998.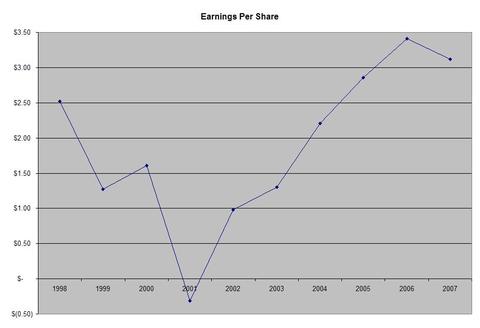 Click to enlarge
The ROE has been volatile over the past decade falling as low as a negative 18% in 2002 until settling in the low 20s percent by 2007.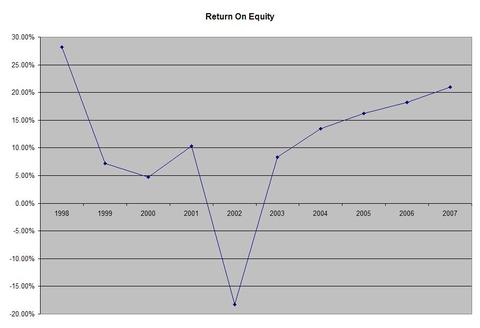 Click to enlarge
Annual dividend payments have increased over the past 10 years by an average of 8.60% annually, which is above the growth in EPS. A 9% growth in dividends translates into the dividend payment doubling almost every 8 years. If we look at historical data, going as far back as 1989, ROH has actually managed to double its dividend payments every nine years.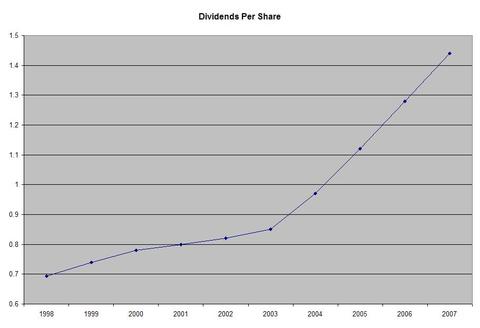 Click to enlarge
If we invested $100,000 in ROH on December 31, 1997 we would have bought 3277 shares (Adjusted for a 3:1 stock splits in 1998). In February 1998 your quarterly dividend income would have been $546.18. If you kept reinvesting the dividends though instead of spending them, your quarterly dividend income would have risen to $1525.88 by October 2007. For a period of 10 years, your quarterly dividend income has increased by 122 %. If you reinvested it though, your quarterly dividend income would have increased by 179%.
The dividend payout ratio has closely followed the volatility in EPS.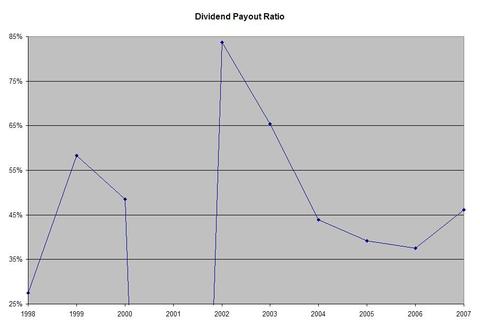 Click to enlarge
I think that ROH is attractively valued with its low price/earnings multiple of 18 and above-average yield at 2.60%. I think however that the best strategy in accumulating ROH is to spread my purchases over four payments as opposed to investing all my money at once. I would be a buyer at current prices, at dividend yields at 3%, 3.50% and 4% in order to compensate for the lack of any significant EPS growth over the past decade. At 1.48 Dividends per share, the levels come up to $49.33, $42.29 and $37.
Disclosure: The author has no position in ROH.