Income investors need reliable income. In the discussion below I emphasize 4 securities to buy and one to avoid. Keep your dividend strategy simple and enjoy your life.
PIMCO Dynamic Income Fund (NYSE:PDI)
PIMCO Dynamic Income Fund is fairly new to the markets. The name turns heads because of PIMCO's success record. The closed end fund accumulated $1 billion in assets with its initial public offering. The fund is invested in multiple strategic fixed income securities.
Tuesday was the ex-dividend day for the first monthly payment. The dividend is 17.7 cents per month. This equates to a 8.2% annual yield. The fund has 3 qualities I look for: 1) a monthly dividend is convenient for personal portfolio income, 2) PIMCO are experts in fixed income securities, and 3) the 8.2% annual yield beats the 10 Year Treasury Bond yield of 1.5%.
I recommend buying shares at a 3-4% premium due to the current interest rate environment. The shares provide a monthly income stream while the stock markets sort themselves out.
QR Energy, LP (NYSE:QRE)
QR Energy is a terrific value at current prices. Insiders have bought units consistently in recent months.
Insider Buying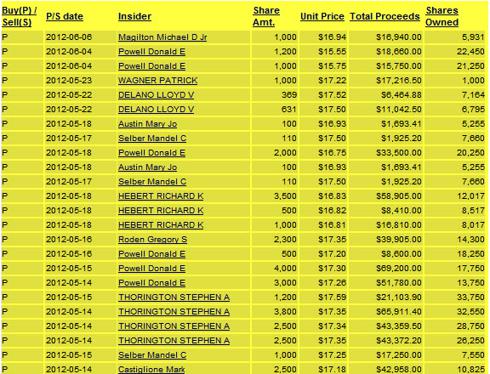 QR Energy is an upstream master limited partnership. The yield is 11.2%. QR Energy has many similarities to Linn Energy (LINE). Per the below May 2012 investor presentation, the reader can identify the strong hedges out through 2017: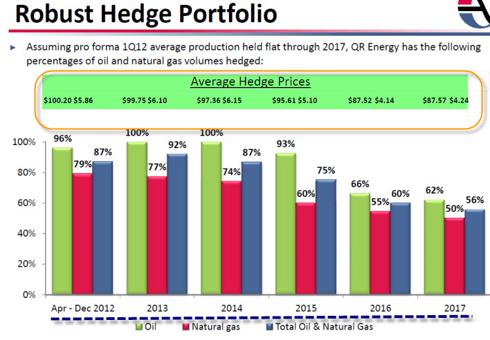 I recommend investors consider QR Energy as an income substitute to bonds. The yield is about 300 basis points higher than Linn Energy. The hedges ensure production revenue is secure and management has planned for the future. I want to be part of a strategic thinking management team.
I plan to sell at $20 - $22.50 when income investors find this name. Until then I will collect an 11.2% yield.
General Electric Company (NYSE:GE)
If manufacturing was experiencing a dynamic economy, then perhaps General Electric would offer value. Other than their finance unit, I am not aware of any growing business sectors.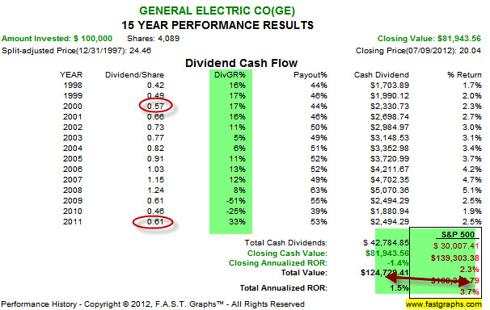 General Electric's 2011 dividend is close to its 2000 dividend. This is not acceptable for a conservative dividend investor. The financial unit simply has destroyed the company's credibility and dividend payout since the 2008 financial collapse. A stock is to hold through thick and thin times. Per the above table, clearly the investor could have more than doubled their money by holding the SP500.
If one wants to hold General Electric for nostalgia reasons, then the stock makes sense. If one wants to make money, I can't find any division which will make up for the negative stock performance. The quantitative results will speak for themselves. I envision General Electric bond holders will be safe, but I would not want to personally own General Electric common stock.
Penn Virginia Resource Partners LP (NYSE:PVR)
Penn Virginia has changed dramatically. The company has converted, and is in the initial steps, of becoming a midstream master limited partnership (for taxation, but legally as a limited liability corporation). I am hoping the investing community sells coal stocks as babies out with the bath water. Penn Virginia is only a coal royalty entity. The recent acquisition, growth in quarterly distributions, and focus upon midstream operations all point to a winning business model. To those have not read the company's transformation, this allows us to enter in at excellent prices.
Penn Virginia is not a Patriot Coal Corporation (PCX). Patriot Coal failed based upon a vendor failing to make payments, low natural gas payments, and a less than intellectual business model for "worst case" scenario planning analysis. Black swan events occur. The brass tacks is one does not tear down shareholders due to management incompetency. I sincerely feel for the holders of Patriot Coal shares. There were better outcomes than this. We can only deal with the cards we are dealt.
CYS Investments (NYSE:CYS)
I recommend investors scoop up CYS Investments on the secondary. This is a 2-4% premium to book value per share. This is reasonable with a 14% yield. This beats AT&T (NYSE:T) and its 4% yield. Scoop up CYS shares tomorrow morning.
Action
Investing is simple if one thinks for themselves. An investor knows if they are seeking income and/or capital gains. Research SEC filings and make an informed decision. Ignore the media and buy well researched stocks that warrant your investment dollars. Good things will follow. This is my strategy and I have been well rewarded for such a strategy.