The SPDR S&P Biotech ETF is up almost 40% YTD, after just a 5% rise in 2011. Within that group, many small-cap biotech stocks (those with market-caps between $300 million and $2 billion) are up even more sharply. These small-cap biotech companies are generally considered very speculative and a risky investment, in contrast to large-cap and some mid-cap biotech companies that have well established commercialized product portfolios that generate revenues, and maybe even profitability. We believe it is significant when the world's largest money managers invest even a small portion of their portfolio in these small-cap biotech companies, thereby giving their seal of approval in what is otherwise considered a very risky investment.
These mega fund managers, such as Fidelity Investments, Goldman Sachs, BlackRock Inc., Vanguard Group, and 22 others, manage between $100 billion and over $1 trillion each, and together control about 40% of the assets invested in the U.S. equity markets. Together, these mega fund managers are bullish on the biotech group, adding a net $4.2 billion in Q1 to their $117.4 billion prior quarter position in the group. Furthermore, overall they are over-weight in the group by a factor of 1.2; that is, taken together, the 25 mega funds have invested 2.0% of their assets in the group, slightly more than the 1.7% weighting of the biotech group in the overall market (for more general information on these mega funds, please look at the end of the article).
The investing activities of these mega fund managers in micro-cap biotech stocks were covered in a prior article. The following are small-cap biotech companies that these mega fund managers are most bullish about (see Table):
Threshold Pharmaceuticals Inc. (THLD): THLD is a biotech company focused on the discovery and development of therapeutics based on tumor hypoxia, a powerful scientific platform that offers broad potential to treat most solid tumors, based on the realization that tumors thrive in areas with low levels of oxygen, or hypoxic regions. Mega funds together added a net 8.92 million shares in Q1 to their 2.84 million share prior quarter position in the company, and taken together mega funds held $96 million or 21.6% of the outstanding shares.
The top buyer was mutual fund powerhouse Fidelity Investments, with $555 billion in 13-F assets, that purchased 5.80 million shares. Other large mega fund purchasers included JPMorgan Chase & Co. (1.09 million shares), with $1.4 trillion in assets under management, Wells Fargo & Co. (0.91 million shares), with $157 billion in 13-F assets, and T Rowe Price Associates (0.85 million shares), with $520 billion in assets under management. Overall, institutional investors loaded up on THLD in Q1, adding 14.4 million shares to their 12.6 million share prior quarter position.
THLD shares rallied up over six-fold in February and March this year, propelled first by a global agreement with Merck KGaA to co-develop and commercialize THLD's phase 3 hypoxia-targeted drug TH-302, and then later in February by positive phase 2b clinical trial results of TH-302 in pancreatic cancer patients. While sharp rallies and plunges are not uncommon in the world of biotech, what's relatively unique about this stock is that it has traded close to the highs since March and is currently within striking distance of those highs.
The reason is primarily excitement around the unique mechanism and potential of its TH-302 drug that selectively targets cancer tumors. TH-302 remains inactive in normal tissues, but converts to its active form in hypoxic environments that are characteristic inside tumors, where it releases its cytotoxic agent, thereby sparing the cancer patient from systemic toxicity that is caused by conventional oncology therapies. TH-302 has blockbuster potential, with peak sales potential for the pancreatic cancer indication estimated at over $1 billion. Wall Street analysts are bullish on the stock, putting a mean price target of $14, well above current prices in the $8 range.
Other small-cap biotech companies that mega fund managers are bullish about include:
Also, mega funds are bearish on PDL Biopharma Inc. (PDLI), that develops treatments for cancer and immune disorders based on proprietary antibody humanization technology, in which mega funds together cut a net 1.87 million shares from their 55.57 million share prior quarter position in the company.
Table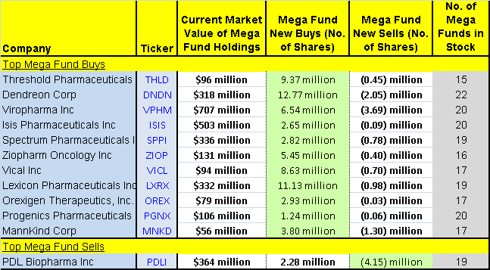 General Methodology and Background Information: The latest available institutional 13-F filings of the largest 25 mega hedge fund and mutual fund managers were analyzed to determine their capital allocation among different industry groupings, and to determine their favorite picks and pans in each group. These mega fund managers number less than one percent of all funds and yet they control almost half of the U.S. equity discretionary fund assets. The argument is that mega institutional investors have the resources and the access to information, knowledge and expertise to conduct extensive due diligence in informing their investment decisions. When mega Institutional Investors invest and maybe even converge on a specific investment idea, the idea deserves consideration for further investigation. The savvy investor may then leverage this information either as a starting point to conduct his own due diligence.
This article is part of a series on institutional holdings in various industry groups and sectors, and other articles in the series for this and prior quarters can be accessed from our author page.
Disclosure: I have no positions in any stocks mentioned, and no plans to initiate any positions within the next 72 hours.
Disclaimer: Material presented here is for informational purposes only. Nothing in this article should be taken as a solicitation to purchase or sell securities. Before buying or selling any stock you should do your own research and reach your own conclusion. Further, these are our 'opinions' and we may be wrong. We may have positions in securities mentioned in this article. You should take this into consideration before acting on any advice given in this article. If this makes you uncomfortable, then do not listen to our thoughts and opinions. The contents of this article do not take into consideration your individual investment objectives so consult with your own financial adviser before making an investment decision. Investing includes certain risks including loss of principal.