Yesterday's Advanced Micro Devices (NYSE:AMD) updates -- they are reducing headcount by 10% and have sold in 1Q $1.5B worth of chips - approximately $100M less than forecast -- require perspective about manufacturing challenges. A perspective that I will keep drilling since Wall Street has been so preoccupied with 'financial engineering' instead of 'constructive engineering'.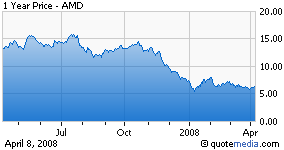 This is not to defend manufacturing companies, But instead, my drumbeat is to help Wall Street open up their aperture and have a longer horizon for valuing company actions and bid the company stock price right. Otherwise, we will keep losing on the WW stage. Others will buy into the companies with the right efforts.
Let's take AMD status as an example.
1. The immediate issue of $100M less sale in 1Q across all segments (low, medium and high; CPU and GPUs). Is this company specific? I cannot tell until the industry tells us so. However, given the 1Q status of the U.S. consumer and the probable impact on WW consumers, I do not think that we have assessed enough the effect of the U.S. psyche on the WW consumer; we keep talking about U.S. International who sells mostly to WW internationally, but have not focused on the WW consumer refraining from spending.
a) So AMD and Intel (NASDAQ:INTC), selling chips WW at the wholesale level, slowing down would not be surprising in 1Q. So the status of AMD would not be company specific, but reflects consumer and business overall buying propensity.
b) Since AMD was in a product transition (quadcore, tri-core), well know since 4Q08, it is not a surprise that they sold less in 1Q when their wholesale PC makers were buying much less of the old stuff , waiting for the new stuff. Again, the 1Q hope of a seasonal pattern.
The lesson for Wall Street: during a product transition, always expect less selling than what a seasonal pattern would call for. Be realistic, read the business the way it most likely will play out.
2. 10% of the workforce "will be pruned". This second AMD update needs to be in the context of the company's short and long term plans; not in the context of 1Q results.
a) Since a new line of chips (quad-core) is just now in production and the next rev of the product (45nn) is in sample stages, whatever resources were needed to jump over the hurdle to make it up to 1Q operations can be peaked workforce.
b) AMD bought the ATI GRAPHIC business so they could merge the two company processes. So, after 1 year plus of designing, if there is success, the resources needed separately for the Computing and Graphic units must be less. So, this is a good sign if AMD comes out and says: yep we will be able to be more with less! Greenpsan used to call for us to watch for signs of "productivity".
c) The third factor in the 10% staff reduction is as follows: When you are running a company, for every business cycle, the managers have to plan on what part of the business they will put their investments into. In the case of AMD, as said above, one set of resources needed to develop their quad-core, and I suppose their graphic chips is over. Now AMD needs capital to build a new chip plant (in NY). Where is the AMD money for the plant coming from? Many sources, but the part that AMD needs to put into the plant is a substitute of the headcount expenses. Now for the bright part: The new plant will create over 4000 jobs! So letting go of approximately 1600 now, building a plant and hiring 4000 jobs is a good thing for the U.S..
Come on, Wall Street should be cheering growth in U.S. chip manufacturing to be sold WW! Get on-board with the new industry structure!
Disclosure: Author has a long position in AMD