Shares of Digital Realty Trust Inc. (NYSE:DLR) have been on a long-term uptrend since late 2011 on account of strengthening fundamentals for commercial real estate and an improving outlook for the U.S. economy. Six earnings surprises in the past seven quarters and a fairly impressive dividend yield of 3.8% make this datacenter and digital storage REIT (real estate investment trust) a solid pick for investors seeking both growth and income.
Strong fundamentals in the technology-related real estate market and solid first quarter 2012 results add further strength to this Zacks #2 Rank (Buy) stock. Earnings are presently expected to grow 9.6% in 2012 and 13.1% in 2013.
Strong First Quarter
Digital Realty reported strong first quarter results on April 26, with a 12.9% year-over-year growth in operating revenues to $283.1 million. Adjusted EBITDA increased 14.6% year over year to $172.0 million. Portfolio occupancy remained relatively high at 94.8%. Funds from operations (FFO) came in at $1.06 per share, surpassing the Zacks Consensus Estimate by approximately 1% and the year-ago tally by 4%.
Digital Realty continued its acquisition spree during the quarter as part of its long-term investment objectives, which focus on investing in institutional-quality data center facilities in high-barrier-to-entry markets that have significant potential to generate attractive risk-adjusted ROI. The company acquired an 819,000-square-foot operating data center and office campus in Lewisville, Texas, for $123.0 million. The property is presently 99% leased on a long-term basis to eight tenants.
With solid quarterly results, Digital Realty reiterated its 2012 FFO guidance range of $4.34 to $4.48 per share.
Earnings Estimates Trend Higher
Analysts have revised their earnings estimate higher for both 2012 and 2013, driving the stock to attain a Zacks #2 Rank (Buy). Over the past 90 days, the Zacks Consensus Estimate for 2012 increased 0.7% to $4.45, implying year-over-year growth of 9.6%. For 2013, the Zacks Consensus Estimate has increased 2.2% to $5.03 over the same time period, representing a year-over-year growth of 13.1%.
Dividend Payout
Digital Realty paid a dividend of 73 cents per share in the first quarter of 2012, which marked a 7.4% increase over the year-ago quarter. Since 2005, the company has raised its dividend 10 times from 24.4 cents, and even continued paying it during the recession. The current dividend payment affirms a yield of 3.8%.
Premium Valuation
Digital Realty's valuation metrics are at a premium on a price-to-earnings (P/E) and price-to-sales (P/S) basis. Shares of Digital Realty are currently trading at a forward P/E of 17.25x versus the peer group average of 13.04x. On a P/S basis, the company is trading at 7.72x versus 2.36x for the peer group average. A healthy earnings growth prospect warrants the premium valuation of the company. Its PEG ratio is 2.58 based on a 5-year FFO growth rate of 6.7%.
Since October 18, 2011, Digital Realty shares have consistently fared better than the simple moving average for 200 days or SMA (200) and S&P 500. The year-to-date return for the stock is noteworthy at 15.15% compared to an S&P 500 tally of 6.67%.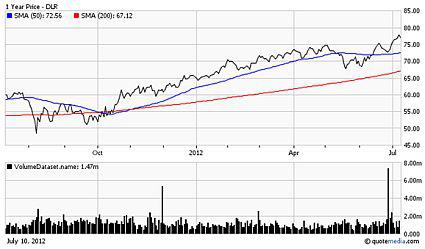 The Bottom Line
With a favorable supply/demand relationship, rising earnings estimates, robust growth projections and a healthy dividend yield, Digital Realty offers an enticing upside potential going forward. Datacenters usually incur high costs for building and maintenance, and as such the supply is relatively inelastic. In addition, Digital Realty has benefited greatly by negotiating favorable lease terms and maintaining strong occupancy rates.
Digital Realty operates datacenters and digital storage facilities, which are primarily used by telecommunication companies to maintain their Internet presence or augment their data networks. The company provides flexible and cost effective datacenter facilities to a wide range of customers, including domestic and international companies across multiple industry verticals. Its portfolio includes 105 properties throughout Europe and North America, spanning approximately 20.0 million square feet of space (including 2.3 million square feet of redevelopment space). The company currently has a market cap of $8.5 billion.