I generally try not to let my personal habits mesh with investing. While I use Crest toothpaste, I have nothing against Colgate-Palmolive (NYSE:CL). Even as an avid Coca Cola (NYSE:KO) fan, I prefer PepsiCo (NYSE:PEP) as an investment. But nonetheless, it's always nice to be able to spend a dollar and know that a small portion of that dollar will make its way back to you as a shareholder.
This is the situation I face with Krispy Kreme (KKD). I can't think of anything that makes early mornings more bearable than a hot, sweet donut. (And for those of you who said coffee, well, I'm getting to that in a minute.)
Mismanagement and questionable accounting plagued Krispy Kreme for years, but it's starting to attract investor interest again. Here are a few reasons I think KKD might be a sweet play:
Coffee. While coffee only accounts for 4% of sales, there's a far more important intangible aspect to offering coffee, which is why competitors like Dunkin' Donuts (NASDAQ:DNKN) do so. Think about it. You're on your way to work and you stop by to pick up a donut for yourself -- or a dozen for the office. Do you really want to stop somewhere ELSE to get coffee and consequently spend even more time in rush-hour traffic? Offering coffee allows Krispy Kreme to cater to a clientele that was previously unreachable.
Krispy Kreme is showing accelerating cash flow growth (see chart below). The 5-year cash flow growth rate is upwards of 50%.
Based on projected long-term EPS growth of 35%, the stock looks fairly attractive -- PEG is at 0.7.
Analysts are fairly positive. Of 6 firms with outstanding coverage, 1 has a "strong buy" recommendation, 2 have "buy" recommendations, and 3 have "hold" recommendations. The mean one year price target is $8.33, representing ~30% upside to current stock prices.
Krispy Kreme's going global, planning to open 80 Krispy Kreme franchises in India over the next 3-5 years.
Same-store sales have grown for fourteen consecutive quarters.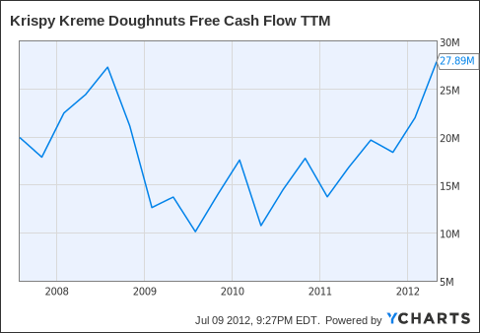 KKD Free Cash Flow TTM data by YCharts
In conclusion: Krispy Kreme looks pretty tasty. While they definitely still need to prove their ability to generate consistent income, recent actions have shown that management has improved dramatically. At current valuations, Krispy Kreme might be a worthwhile turnaround play.

Disclosure: I have no positions in any stocks mentioned, but may initiate a long position in KKD over the next 72 hours.