CenterPoint Energy Inc. (CNP) has been in an uptrend for more than two years. Plus it pays a generous dividend of 3.95%. CNP is a US utility that supplies regulated electric transmission and distribution (2.2 million customers), regulated natural gas distribution (3.3 million customers), FERC regulated pipelines and storage, non-regulated natural gas field services (gathering, treating, and processing), and non-regulated natural gas sales and services for approximately 14,300 commercial, industrial, and utility customers in 21 states. The following chart shows the approximate distribution of services.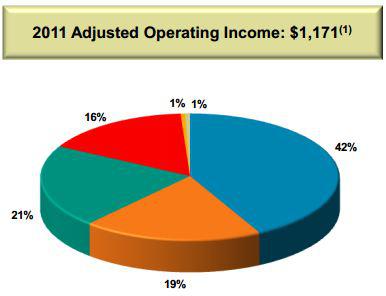 Starting on the right hand side, the distribution is (going clockwise): 42% electric transmission and distribution, 19% natural gas distribution, 21% natural gas interstate pipelines, 16% natural gas field services, 1% natural gas sales and services, and 1% other operations. Each area above is run as a business.
The electric transmission and distributions segment has nearly completed the installation of more than 2 million advanced meters. It expects to be finished in Q2 2012. $150 million of the $663 million invested was funded through a DOE grant. It has also invested in an intelligent grid. The initial deployment is expected to be complete in 2013. Again of the $115 million invested, $50 million was funded through a DOE grant. This segment also appealed for and got in Sept. 2011 a periodic rate adjustment mechanism that mitigates regulatory lag for distribution capital investment. A similar adjustment mechanism already existed for transmission costs. This shows good management.
The natural gas distribution segment has pursued rate strategies that reduce rate case frequency and decouple revenues from consumption. It has prioritised reducing delinquencies and bad debts and controlling operations expenses. This has served the company well in the recent hard times. This segment ranked first in the Midwest region of the J.D. Power annual gas utility residential customer satisfaction survey. It ranked second in the American Customer Satisfaction Index for US investor owned gas and electric utilities. Paying and happy customers are good to have.
The interstate pipeline segment has focused on extending long term agreements. It has shifted many short term agreements to longer term agreements. It has initiated a rate case settlement process for the Mississippi River Transmission (OTC:MRT) pipeline. It is pursuing expansion opportunities, especially the 29 additional gas-fired power plants (12 GW of power load) located within 10 miles of CNP's current systems. It is continuing to spend on infrastructure ($80 to $100 million annually). Some of this is necessary due to new environmental regulations.
The field services segment is one of the biggest opportunities for expansion with all of the new shale gas fields. The average throughput increased from 1.1 Bcf per day in 2008 to 2.25 Bcf per day in 2011. It averaged 2.6 Bcf per day in Q1 2012. Plus its business is stable. Over half of the near term gross margin is projected to come from XTO/Exxon (XOM), Shell (RDS-A), and EnCana (ECA). Few customers are more blue chip than those. It has a big presence in the Haynesville, the Fayetteville, and the Woodford. It can expand in these areas most easily. Plus it is actively pursuing other opportunities in liquids rich shale plays. Historically the gathering, treatment, and processing business has been a very profitable one for the companies involved in it.
From a fundamental financial perspective, the income statement shows strong steady grow for the last three years on a GAAP basis. CNP trades at a FPE of 16.5. It is stable with a Beta of 0.45. CNP has met or beat EPS estimates for the last four quarters by an average of +18.5%. This is impressive for any company. Its FY2012 and FY2013 EPS estimates are unchanged over the last three months, while many other companies have seen their estimates decline in this slowing world economic environment. CNP has an average analysts' 5 year EPS growth per annum estimate of +4.48%. This is good for a utility, and it should ensure that CNP will be able to keep growing and paying its generous dividend of 3.95%.
The two year chart of CNP gives some technical direction to this trade.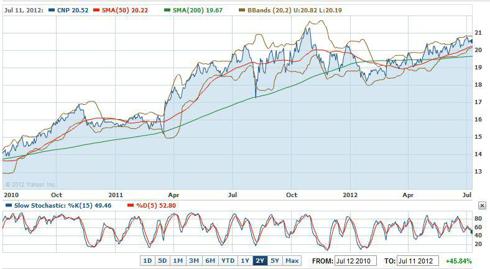 The slow stochastic sub chart shows that CNP is neither overbought nor oversold. The main chart shows that CNP is in an uptrend, which has existed for several years. CNP has done some consolidation in the last year or more, so it is likely set to grow. At worst it should be resistant to a significant down move. Plus I found no fundamental reason that the stock should go down dramatically in the near term. The management has been very active in ensuring CNP's income streams (extending pipeline contracts, etc.). If you are looking for a stock in which to ride out the coming troubled times, this one may be a good one. The 3.95% dividend is also far superior to a 10 year US Treasury yield, which is at historic lows (1.46% in the sale on Wed. July 11, 2012). CNP also has good opportunities for growth in stock price with little to fear on the downside due to good recent management. The recent hot weather throughout the Midwest/ Central US should lead to a substantial beat in the current quarter. Many more people will have used their air conditioning systems. That is likely to help the stock price. With the overall market showing signs of weakening, averaging in is a good strategy.
If you like CNP as an investment, you might also like other good dividend paying stable utilities such as Southern Company (SO), Duke Energy (DUK), and Xcel Energy (XEL).
NOTE: Some of the fundamental financial data above came from Yahoo Finance.
Good Luck Trading.
Disclosure: I have no positions in any stocks mentioned, but may initiate a long position in CNP over the next 72 hours.