Vornado Realty Trust (NYSE:VNO) tapped the preferred market today, issuing 12MM perpetual preferred shares at 5.70%. Vornado has joined a plethora of REITs (rated and non-rated) that have been tapping the preferred market this year, taking advantage of low rates to raise perpetual funds.
Issue Description
| | |
| --- | --- |
| Issuer | Vornado Realty Trust |
| Issue | 5.70% Series K Cumulative Redeemable Preferred |
| Ticker | VNOPrK (expected) |
| Offering size | $300,000,000, 12MM shares |
| Rating | Baa3 / BBB- / BB+ |
| Offering Price | $25 |
| Yield | 5.70% |
| Dividends | Quarterly January 1, April 1, July 1 and October 1 |
| Use of Proceeds | General corporate purposes |
| Call Date | 7/18/2017 |
Underwriting discount: $0.7875 per share (retail) / $0.5000 per share (institutional).
Issuer Description
Vornado Realty Trust is one of the largest owners and managers of commercial real estate in the United States with a portfolio over 100 million square feet, primarily located in the New York and Washington, DC areas. Vornado's core businesses include New York Office and Retail Properties; Washington, DC Office Properties; and, Retail Properties in the northeast states, California and Puerto Rico.
Vornado has also been involved in leveraged buy-outs and other capital markets activities. Some of the more interesting investments are:
A 32.4% interest in Alexander's, Inc. (NYSE:ALX), which owns seven properties in the greater New York metropolitan area, including 731 Lexington Avenue, the 1.3 million square foot Bloomberg headquarters building (it manages, leases and develops Alexander's properties pursuant to agreements which expire in March of each year and are automatically renewable);
As of March 31, 2012, VNO owned 18,468,969 Lexington (NYSE:LXP) common shares, or approximately 11.9% of Lexington's common equity;
A 25.0% interest in Vornado Capital Partners, their $800 million real estate fund. VNO is the general partner and investment manager of the fund;
The 1,700 room Hotel Pennsylvania in Midtown Manhattan;
A 32.7% interest in Toys "R" Us, Inc.;
An 11.0% interest in J.C. Penney Company, Inc. (NYSE:JCP); and
Other real estate and related investments, marketable securities and mezzanine loans on real estate, including a 26.2% equity interest in LNR Property Corporation, an industry leading mortgage servicer and special servicer.
Relative Value
In order to determine the relative value of the new Vornado issue, the following issuers were used:
The peers are larger REITs with newer preferred stock offerings.
Click to enlarge

Click to enlarge
An equity snapshot of the peer group: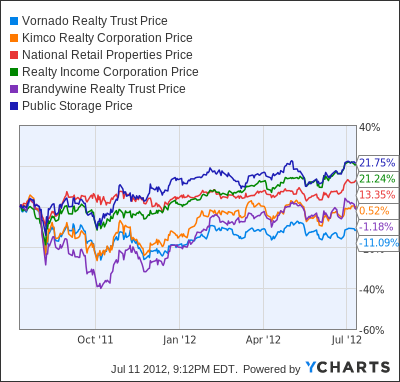 Bottom Line: Vornado Realty's equity has underperformed and yields 3.28%, so the preferred is a decent alternative to the equity in terms of income. As the title of this article implies, the ability to buy Vornado's new preferred at par plus five years call protection, comes at a cost. The existing Vornado 6.875% Series J has a 60bp advantage to the new issue on a current yield basis, but the yield-to-call is just North of 4.50%. I am on the fence with this one as rates should be headed back up by the 2016 call date on the Series Js, reducing the call threat. I would pick 60bps and pay the premium.
If you look at the new issues listed in the peer analysis, you will notice all have gone to a premium very quickly as the demand for income has continued unabated. I would expect the new Vornado preferreds to perform well after the NYSE listing (I expect they trade at a discount at first given the underwriting discount of $0.78 retail).
Additional disclosure: Long OPrF and NNNPrD.
Disclaimer: This article is for informational purposes only, it is not a recommendation to buy or sell any security and is strictly the opinion of Rubicon Associates LLC. Every investor is strongly encouraged to do their own research prior to investing.