The following portfolio was designed with a mid-age investor in mind. The strategy was to utilize five companies with large capitalizations that have proven their consistent ability to grow their total return. The ultimate goal was for wealth preservation and stability over the course of a longer holding time period. Furthermore, the aim was for the companies themselves to have a proven track record of growing their yields. Above all, the companies should provide adequate diversification to support localized industry shocks.
| Company Name | Mkt. Cap. | Trailing Div% | Payout Ratio | 5-Yr Beta |
| --- | --- | --- | --- | --- |
| Church & Dwight (NYSE:CHD) | $7.99 Billion | 1.4% | 30.00% | 0.35 |
| W.W. Grainger (NYSE:GWW) | $12.56 Billion | 1.5% | 28.00% | 0.91 |
| Novo Nordisk A/S (NYSE:NVO) | $81.36 Billion | 1.7% | 33.00% | 0.55 |
| International Business Machines (NYSE:IBM) | $213.68 Billion | 1.7% | 22.00% | 0.64 |
| Philip Morris International (NYSE:PM) | $154.42 Billion | 3.08% | 59.00% | 0.86 |
CHD Total Return Price data by YCharts
As seen in the chart above, a quick look at the performance over the last four years illustrates the ability for the portfolio to steadily recover as it came out of the Great Recession. With growing yields to increasingly support the total return, the listed companies recovered exceptionally well with the investing public. This indicates a certain level of stable confidence in the underlying companies. A more accurate picture can be seen in the stability of the low Beta figures over five years, which can stand as an additional testament to the underlying stability of the portfolio. As shown in the chart below, the average 5-year Beta amounted to 0.66. This indicates 34% less volatility when compared to the market as a whole.
Altogether, the portfolio stands well-diversified. Church & Dwight provides increasingly popular household consumer goods. W.W. Grainger provides maintenance and operating supplies to businesses. Novo Nordisk is a major drug manufacturer with a global presence. IBM is one of the largest information technology service providers in the world. Philip Morris International is a major tobacco manufacturer with a foreign emphasis.
Of the five companies listed above, I am most skeptical about its highest yielder - Philip Morris International. While the company's payout ratio is acceptable and fully indicates the continued ability to distribute its dividend, the company operates in a negatively perceived industry. It is comforting, however, to note that it operates in a global market and, therefore, diversifies its political risk from increasing regulation.
The following charts show that each of these companies have remained committed to the value of returning wealth to shareholders. With easily identifiable steady dividend-growth trends, each of these companies suggest that their yields have more room to grow. This idea is backed by the low payout ratios seen above. Based on historical precedence, this portfolio appears on track for overall stability and committed to steady dividend growth.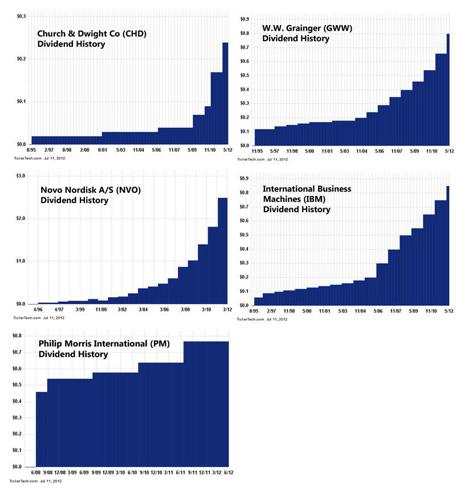 Disclosure: I have no positions in any stocks mentioned, and no plans to initiate any positions within the next 72 hours.