Chipotle Mexican Grill, Inc. (NYSE:CMG) reports Q2 earnings on July 19th. The Street expects:
Revenue: $706 million
EPS: $2.30
Q3 revenue guide: $714 million
Comps: 9.4%
In Q1, Chipotle delivered a strong quarter in which revenue of $641 million beat the consensus of $631 million. Comp increase of 12.7% vs consensus of 10.2% highlighted robust sales trend. The management guided its usual mid to single-digit comps guidance, but I believe Chipotle is on track to deliver another +10% comps, given the resilient store traffic and quality product that are well liked by the consumers.
Click to enlarge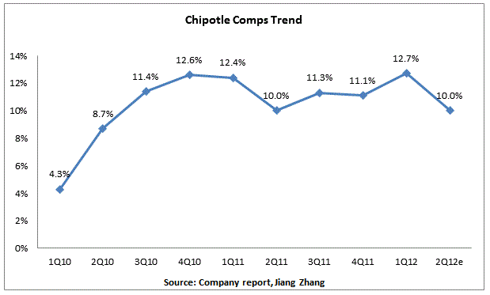 International market is another key focus, which I believe has yet to factor into the stock price. During the quarter, Chipotle continues to expand its international footprint and the initial assessment is encouraging. According to management, 80% of weekly patrons in the recently opened Paris location are Parisian, which indicates positive consumer adoption. The company also expanded its London locations to three stores and plans to enter Germany next year.
Given that it just entered Europe and has yet to enter Asia, CMG still has room to growth and could easily double its current 1,262 store count in the next ten years as it expands globally and gains wider audience through the possible localization of its menu items.
Shophouse, Chipotle's Southeast Asian concept located at Dupont Circle in Washington DC, continues to meet management's expectation and the company plans to open another one in Georgetown later this year.
Finally, in the recent William Blair's 32nd Annual Growth Stock Conference, management pointed out potential catering opportunity in which the ingredients will be delivered in disposable trays and Sterno-warmers so customers can create their Chipotle menu items according to their taste preferences. I expect catering to be well received by large company and school events where taste preferences among attendees are highly unpredictable.
Disclosure: I have no positions in any stocks mentioned, and no plans to initiate any positions within the next 72 hours.