Sierra Wireless Inc. (NASDAQ:SWIR) shares were up nearly 5% or C$0.84 to C$19.10 yesterday morning after the provider of modems and software to connect mobile broadband networks, announced that the company had agreed to acquire CradlePoint Inc, a developer and supplier of wireless networking products and docking solutions.
Sierra Wireless will pay $21.8-million in cash and issue 462,963 shares to the shareholders of CradlePoint. The total transaction value based on current share prices represents roughly $30-million.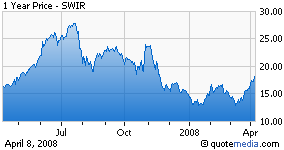 Sierra said it expects the acquisition to increase its revenues and earnings and be accretive to earnings by the end of 2008, excluding restructuring and integration costs. The deal is expected to close in July, 2008.
CradlePoint had revenues of $6.5-million in 2007, and is expected to achieve revenues of approximately $25-million in 2008. Pat Sewall, CradlePoint's chief executive officer, will become vice-president and general manager of the Sierra Wireless Mobile Broadband Networking product group. He will report to Trent Punnett, senior vice president of Marketing and Corporate Development.