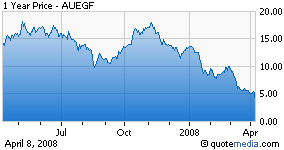 Aurora Energy Resources Inc. (OTC:AUEGF) shares plunged 33% on Wednesday after the company confirmed that the Nunatsiavut Government voted eight to seven in favor of implementing a three-year moratorium on uranium mining on Labrador Inuit Lands, but will continue to allow uranium exploration. On Wednesday, the stock closed at C$3.50, down C$1.77.
Dr. Mark O'Dea, President and CEO, Aurora Energy Resources Inc. said:
The Nunatsiavut Government has indicated that it is supportive of natural resource development and open to evaluating ongoing project information, but needs additional time to prepare for significant developments like the Michelin Project. Currently there is no uranium mining on Labrador Inuit Lands and there are no plans for uranium mining operations for the next three years.
Aurora said it plans to conduct an in-fill drill program at the Michelin and Jacques Lake deposits, and continue with a pre-feasibility study on the Michelin Project.