We previously wrote about CYS Investments (NYSE:CYS) after it went ex-dividend on June 21st. We were surprised that the company issued a common share offering in the secondary market because we estimated that its small market price premium to book value per share would make it less likely to utilize a secondary offering. Despite the fact that the company's Q2 premium to book value of 4% before its announcement after the close of trading on July 10th was comparable to the estimated 2.56% premium of Annaly (NYSE:NLY) and significantly lower than the 10%-13% estimated premiums for American Capital Agency (NASDAQ:AGNC) and American Capital Mortgage (NASDAQ:MTGE). Now that the offering has been issued, CYS's estimated Q2 Market Premium to Book is an even smaller 1.77%, which is well below these three competitors.
Click on graphics below to enlarge: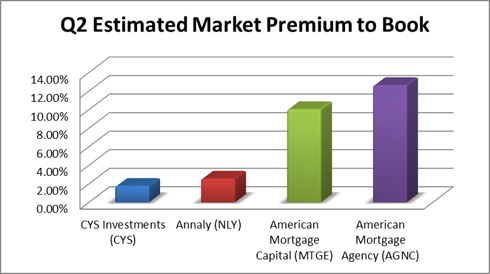 Sources: CYS Q2 Preannouncement and Saibus Research forward forecasts
CYS Investments (formerly CYS Sharpridge) pre-announced preliminary estimates of select financial data for Q2 2012. The company estimated that it would earn $.85-$.90 in GAAP Net Income, which consists of net investment income and gains on investment securities net of losses on swap and cap contracts. We estimated that the company earned between $.45-$.55 from net investment interest income and the remainder from gains on securities. We are pleased that our estimate for CYS's quarterly net investment income (spread) is comparable to the Q1 net spread and is in line with its Q2 dividend declaration. CYS announced that the company will report its full Q2 2012 results on the morning of July 19th, 2012.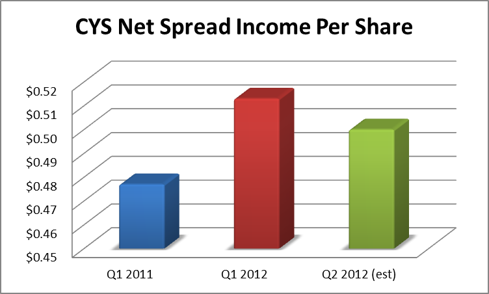 Source: CYS Q1 10-Q Report and Saibus Research forward forecasts
We can tell that investors had a favorable reaction to this offering, despite the one-day decline in price. The company originally planned to offer 30M shares with an underwriter's option for 15% additional shares at $13.70 per share. Today it was announced that the company planned to offer 40M shares with the same 15% underwriter's option and at the same price. The company traded above the offering price throughout the entire day and even reached a high of $13.87 a share, which was 1.2% ahead of the offering price. CYS saw over 29M shares trade today (Wednesday), which surpassed the 21.4M shares traded on January 27th, when it released its previous secondary stock offering. Moreover, we were pleased that this offering resulted in a stock decline of only 2.26%, versus 3.42% on January 27th.
We believe that the Federal Reserve will maintain its low interest rate policy. Though we were disappointed to see the Fed persist in its Operation Twist program, we were glad that it did not go further with a third round of quantitative easing in June. This ensures that if CYS and other mREITs have to cut dividends, the dividend cuts will not be steep and that investors will still be able to generate satisfactory double-digit dividend yields on their mREIT investments. The minutes from the June Fed meeting were released Wednesday afternoon and anyone can see that the Fed is worried about the economy, which will push down interest rates. When the Fed decides to forcefully advocate against central bank monetary easing and in favor of economic liberalization through low taxes, less government spending and less regulation, then we will exit our mREIT positions. However, we don't expect the Fed or the rest of the world's central banks to do anything except its technocratic monetary easing program, which means that interest rates will remain low on debt securities and will continue to provide rich yields to investors in mREITs. Though we don't expect much in terms of dividend growth for mREITs, we believe that most investors are attracted to the high current dividend yields and mainly want to make sure that the dividends are not drastically cut.
In conclusion, we just added to investment in CYS after seeing its price decline on July 11th due to the 46M share secondary offering. We recommend it to investors who want or need high current income from their investments. CYS priced its secondary offering at $13.70 on the evening of July 10th and it had traded in a range of $13.77-$13.87 on Wednesday July 11th. We were not worried about the one-day price decline because it closed at nearly 1% ahead of the offering price. We certainly expect the stock to shake this off over the next few weeks. We believe that CYS is a great alternative to industry heavyweight Annaly and offers a lower cost alternative to American Capital Agency and American Capital Mortgage.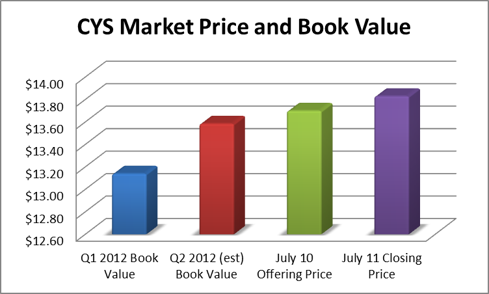 Sources: Morningstar Direct, CYS Q1 2012 10-Q and Saibus Research estimates
Disclosure: I am long CYS.
Additional disclosure: Saibus Research has not received compensation directly or indirectly for expressing the recommendation in this report. Under no circumstances must this report be considered an offer to buy, sell, subscribe for or trade securities or other instruments.