I wrote an article on Ocean Power Technologies (NASDAQ:OPTT) on January 23rd titled:"Ocean Power Technologies: A Speculative Opportunity." In the article I pointed out that the stock was trading below net cash and recommended the stock as a speculative buy.
Ocean Power Technologies is a pioneer in wave-energy technology that harnesses ocean wave resources to generate reliable and clean and environmentally-beneficial electricity. OPT has a strong track record in the advancement of wave energy and participates in an estimated $150 billion annual power generation equipment market. OPT's proprietary PowerBuoy system is based on modular, ocean-going buoys that capture and convert predictable wave energy into clean electricity. The company is widely recognized as a leading developer of on-grid and autonomous wave-energy generation systems, benefiting from 15 years of in-ocean experience.
I see at least 3 reasons to buy the stock currently:
1. The company announced a teaming agreement with Lockheed Martin
On July 11, 2012 the company and Lockheed Martin (NYSE:LMT) entered into a teaming agreement with the goal of developing a 19 megawatt wave-energy project in Portland, in the state of Victoria, Australia. This is one of the largest wave-energy projects announced to date, and leverages a grant from the Commonwealth of Australia. The Commonwealth of Australia has granted $65.3 million for the project.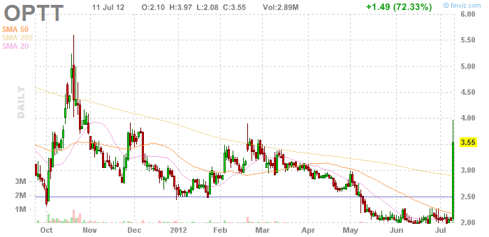 2. The stock is trading below net cash
According to the most recent quarterly filing filed on March 12, the company's total cash, cash equivalents, restricted cash and investments were $37.8 million on January 31, 2012. Net cash used in operating activities was $9.7 million for the nine months ended January 31, 2012, compared with $14.0 million for the same period last year. The company has 10.2 million shares outstanding, which creates net cash of $3.70 per share. The company will report its fiscal fourth quarter and full year 2012 financial results before the market opens on Friday, July 13, 2012.
3. The company has six projects ongoing
Conclusion
I recommend the stock as a speculative buy below the net cash level of $3.70 per share. It is possible that we get more catalysts for the stock from the six ongoing projects.
Disclosure: I have no positions in any stocks mentioned, but may initiate a long position in OPTT over the next 72 hours.