In recent months, mining equipment and services company Joy Global, Inc. (NYSE:JOY) has been obliterated by the market. Why? There are plenty of reasons: The eurozone crisis, slowing growth in China, a huge drop in the demand for coal, etc. But none of these reasons seem to warrant such an extreme sell-off. Joy Global hasn't traded this low since June 2010, when the dust from the financial crisis was beginning to settle.
Joy Global isn't alone, because similar industrial goods companies like Caterpillar Inc. (NYSE:CAT) and Deere & Company (NYSE:DE) have also felt market pressure, although not as severely as Joy Global.
| | | | | |
| --- | --- | --- | --- | --- |
| Company | 1 Week % Change | 3 Month % Change | 6 Month % Change | 1 Year % Change |
| Joy Global | (11.99%) | (32.71%) | (39.85%) | (47.66%) |
| Caterpillar | (7.61%) | (25.08%) | (21.78%) | (25.43%) |
| Deere & Co. | (3.64%) | 0.79% | (7.50%) | (6.38%) |
As you can clearly see, Joy Global has suffered considerably more than its industry peers, which presents an excellent buying opportunity. JOY fell from over $80 per share to just under $16 per share during the peak of the financial crisis. After hitting those lows the stock gained 520% from March 2, 2009 to February 28, 2011. If history can be of any use to us, we can infer that another potential rebound is plausible.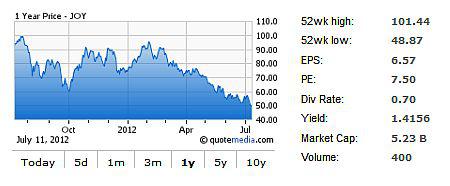 Be aware that Joy Global's share price is sensitive to many macroeconomic conditions, specifically the price of coal. JOY very nearly tracks the Market Vectors Coal ETF (NYSEARCA:KOL). The company is so dependent on the demand for coal because much of its mining equipment is used for the extraction of coal. If there is a weak demand for coal, then producers have little incentive to extract it, and even less incentive to purchase mining equipment.
And the coal industry doesn't seem to be faring well, as seen by Patriot Coal Corporation's bankruptcy and speculation that James River Coal Co. (JRCC) will soon follow. Coal is rapidly losing ground to cleaner burning and extremely inexpensive natural gas.
But Joy Global has had solid earnings even when the price of coal is low. In 2009, when coal was at multi-year lows, Joy Global reported EPS of $4.41, a 28% increase from the previous year's EPS of $3.45. Joy Global has been consistently increasing earnings; and according to analysts' estimates, this will continue.
Trading at a trailing P/E of 7.53 with a PEG of 0.40, and only half of its 52 week high, Joy Global seems like a compelling buy for value investors; it's just too cheap to pass up. The company has been in business since 1884, and a little economic uncertainty shouldn't matter in the long run. If you're looking for a fundamentally strong company with incredible earnings power, and at an extreme discount, then look no further than Joy Global.
Disclosure: I have no positions in any stocks mentioned, but may initiate a long position in JOY over the next 72 hours.