You have to hand it to Cummins (CMI). At least they try to put a positive spin on the news, such as this headline on the company's July 10 press release: "Cummins Increases Dividend by 25 Percent; Updates 2012 Revenue Outlook" - a kind of a good news/bad news release.
The first part about the dividend? That was the good news. The bad news? The company cut its revenue outlook for 2012. According to the press release, revenues are now expected to be more in line with 2011 revenues instead of the 10 percent increase the company previously predicted.
"We have seen demand in some markets weaken recently as growth in the global economy has slowed … Order trends in the U.S. for trucks and power generation equipment have softened and demand in Brazil, China and India is not improving as we had previously expected.

Our revenues have also been negatively impacted by the appreciation of the U.S. dollar against a number of currencies. We are making adjustments within our business to manage costs, while continuing to fund our critical growth programs and will continue to focus on execution and improving operating margins."
A "cruel blow," but higher yield
MarketWatch noted: "It was a cruel blow to Cummins's share price, which tumbled 9% on the news. Clearly, a lot of investors didn't see this one coming."
I have to admit that I didn't see it coming either - and yes, it was sort of a "cruel blow." But that 25% increase in the dividend does provide a bit of a silver lining. Here's a look a dividend yield levels for Cummins based on payouts since 2009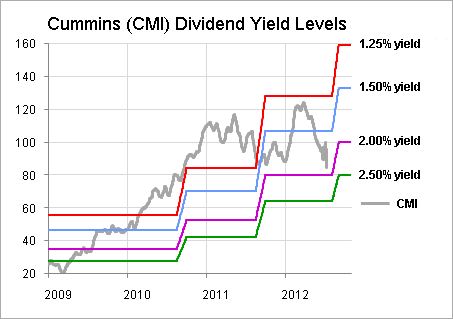 With its current $1.60 annual dividend, the company yields about 1.9% but that would be equivalent to about 2.4% at the new $2 expected annual payment.
Also note that the stock has not offered a 2.50% yield since early 2009. At the new dividend payment level, you'd have an expected 2.50% yield if the stock traded at $80 per share.
I'd be a bit more concerned about Cummins if the company's payout ratio seemed to be high, but that doesn't appear to be the case: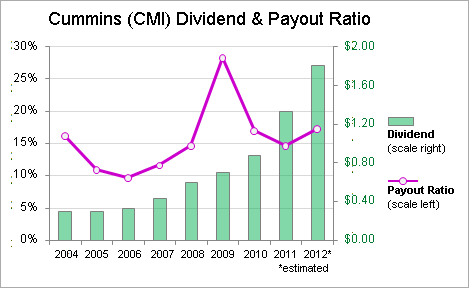 The company has been raising its dividend for the past several years. And while the payout ratio soared in 2009, the company would appear to be able to maintain this dividend - at least based on earnings now.
Given global uncertainty, I certainly wouldn't rush in to buy this stock right now simply for a 2.4% yield, but if you've been acquiring shares through dividend reinvestment, you may be getting some additional shares cheaper soon. So that's kind of good news.
I already own the stock and don't plan to make any changes right now - except for collecting another 50 cents per share per year.
And I look forward to the company's earnings announcement on July 31 for some more clarification on global industrial demand and how it may impact CMI in the months ahead.
Disclosure: I am long CMI.