Merrill saying AMAG Pharmaceuticals (NASDAQ:AMAG) is worth $21 to $29. They now see potential for a delayed launch until 2011.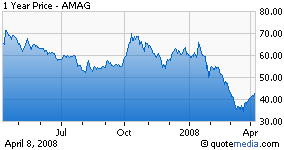 This thing could be down 10%+ today.
One Notablecalls Network [NCN] member has some interesting comments on the AMAG downgrade:
It's the third time he has downgraded it in 10 weeks - first Jan. 30 then Feb 28 and now [today]. Nothing new in the report. Also the analyst was hired by Merrill only last year and I think the guy's trying to make a name for himself.

Jan. 30 he went from a $100 target to $78 and the stock fell 6 points. Than Feb. 28 he went to Neutral and the stock fell $4 I think.

I'm just saying the whole street knows he has it out for AMAG.
Notablecalls: Excellent color.