Back in April, when Ford (NYSE:F) was trading at about $11.20, I recommended traders go short the stock despite a general collective conclusion that it was oversold and due for a bounce. The path of least resistance was clearly lower and overall market fundamentals, in addition to some medium-term macro conditions, added to the technical picture that showed the opportunity for shorts.
Since then I've provided two trade updates, seen here and here.
Currently, I believe Ford still has at least 5% downside from Wednesday's close of $9.33, or a target price of about $8.85. The next support level is $9.05; the 2011 euro-induced lows.
In late July, Ford announced what I warned about back in April: European losses are not being contained. Ford now expects to lose $600 million from these operations, despite strong U.S. sales. June sales showed excellent growth for the big three, with Ford notching 7% gains over June 2011.
Analysts expect Ford to make $.28 per share in Q2, and $1.33 for the fiscal year. Most forward valuation estimates have depended on Ford making $1.47-$1.50 for 2012, which was the consensus estimate only a few months ago.
I suspect Ford earnings could surprise to the upside given management's early disclosure about weaker than expected losses stemming from their EU operations. That being said, I have no interest in closing out my short call ahead of earnings. Here's why:
How The Market Is Valuing Ford
The ultra-low price to earnings multiples of Ford and GM (NYSE:GM) are enticing, especially since the underlying earnings growth has been relatively strong. However, Ford's low forward multiple of 7.15 (based on annual EPS of 1.33) isn't as cheap as it appears.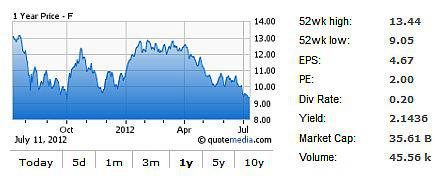 Losses stemming from international operations are going to keep offsetting extremely positive U.S. demand growth (driven primarily by a high national average car age, and the subsequent pent-up demand). After earning $1.51 in 2011, overseas operations have deteriorated so much that nearly double digit U.S. sales growth is more than offset, resulting in negative EPS growth.
The market's main worry is that Ford won't contain losses in the medium-term, and that this $600 million loss gets sustained into the third and fourth quarters of 2012. In that scenario, full-year EPS would come in closer to $1.15. Again, this in spite of strong U.S. demand trends. If EU losses come in at the lower range of guidance and the hit to the bottom line is worse than expected, Ford bulls will likely capitulate. If not, overall market conditions and Ford worries will cap the short-term upside. With the bearish trend still intact, closing out a short ahead of earnings doesn't make great sense.
Further out, it appears this dynamic will continue. The market is well-aware of Ford's excellent U.S. prospects. The massive discount we see in the share price is a result of more than just unfounded "fears" of EU weakness, as some commenters have stated. Rather, these losses are accelerating and have a very real impact on earnings.
Long-term, it's a very safe bet that Ford will restructure its European business in order to mitigate losses, as GM has already begun doing. At this valuation, there is a skewed return profile in favor of longs (note: for long-term investors). With EU losses merely contained, U.S. growth will allow Ford to achieve solid bottom line growth, with $2 of EPS a reasonable target by 2015.
Conclusions
New bets ahead of Ford's earnings are not advised. Longer-term, Ford may be reaching a bottom since the scale of the European losses are now fully priced in, and U.S. demand trends are being sustained in spite of an extremely difficult domestic economy.
I still expect overall market bearishness to have Ford testing $9.05 in the next few weeks, but this trade (and trend) appears to be on its last leg. I'll share my thoughts on a bottoming after Ford announces in a couple of weeks.
Disclosure: I am short F.
Additional disclosure: Short via put options