On Wednesday, Goldcorp (GG) and the rest of the miners (GDX) were sold heavily as analysts cut Goldcorp's EPS estimates in response to the company's production revisions.
The miners have been in a significant downtrend for several months, with the index value and 50 DMA now significantly below the 200 DMA: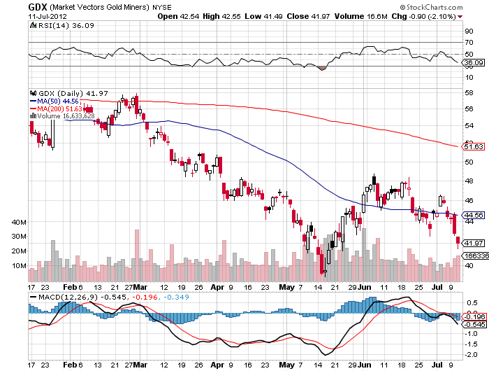 Despite my recent article on entering gold (GLD) as a long trade, recent events have had me changing my views.
Despite massive coordinated easing from the BoE, PBOC, and ECB, gold prices have actually fallen. Additionally, the mere lack of definite easing outlined in the recent Fed minutes, despite depressed expectations, led to further declines in gold prices.
The failure to respond aggressively to bullish news, in conjunction with weak price action in response to predictable policy, means the commodity itself is simply no longer in a bull market.
While there are some long-term bull cases for gold (i.e. Euro collapse, rapid inflation, etc). they are a bit "soft" as far as investment theses go. I will have an article up in the next few days with further clarification on why I'm flipping bearish on physical gold.
From a valuation standpoint on the miners, the lofty EPS estimates that analysts have outlined for 2013 appear set on $2,500 gold and increased efficiencies. I don't see either of these factors being achieved. $2,500 gold is totally unrealistic unless a major inflationary environment takes hold or the euro collapses, and given the issues many gold producers have had with their mines (Goldcorp's own quarterly production cut is a result of mine setbacks).
Though Goldcorp is only going to make about $2.16 this year, estimates call for $3.13 in 2013; this is simply not realistic. Similarly, Barrick (ABX) and Newmont Gold (NEM) are expected to see 15 and 20% EPS growth next year, respectively.
In the face of stagnant, or even falling gold prices, the miners still have plenty of room to fall. With expectations of over $2000/oz gold priced into the miners' valuations, multiples are set for continued contractions.
Disclosure: I have no positions in any stocks mentioned, and no plans to initiate any positions within the next 72 hours.