We recommend buying Intel (INTC) because of its strong foothold in the PC market, expected high growth from its entry into the smart mobile devices semiconductor market, and its attractive valuations. We expect emerging markets to drive up the growth forecast for the PC market, of which Intel will be the biggest beneficiary. Plus, significant investment in R&D will help the company in maintaining its competitive advantage in microprocessors, based on better energy efficiency and high performance. Lastly, Intel is one of the few technology blue chips offering a higher than industry average dividend yield of 3.31%, in the current low interest rate environment. We have a target price of $40, which represents an upside of 60%.
Business Overview
Intel is a leader in designing and manufacturing microprocessors, chipsets, wireless and storage products, and other computer hardware. The company has formulated a success strategy revolving around energy efficient performance, connectivity, and security. The company has five operating segments, 1) PC Client Group (PCCG), 2) Data Center Group (DCG), 3) Other Intel Architecture (Other IA), 4) Software and Services operating (SSG), and 5) All Other.

Click to enlarge
(Click to enlarge)
The share of the PCCG segment revenues in total revenues is falling over the past few years due to rapid growth in Other IA segment. Over the past few years, Intel has invested heavily in the development of next generation mobile communication technologies for use in tablets, smartphones, and other mobile smart devices.
% of Total Revenues Contribution

Customer Mix

2011

2010

2009

HP (HPQ)

19%

21%

21%

DELL (DELL)

15%

17%

17%

Others (Less than 10% contribution)

66%

62%

62%
Intel Chipset Success Factors
Performance
Energy Efficiency
Price
Availability
Reliability
Industry
According to Gartner, the worldwide semiconductor market grew by 1.8% in 2011 to $306.8 billion. The Semiconductor Industry experienced consolidation among small players to effectively compete with large players. Intel leads the worldwide semiconductor vendors market for the twentieth consecutive year, with a 16.5% market share, and posted a 20.7% percent YOY revenue gain. It is also worth noting that Intel gained the highest market share ever gained by a company in the semiconductor vendor market. Qualcomm (QCOM) and Broadcom (BRCM) are two of the fastest growing players in the semiconductor market. Both of these companies are the prime beneficiaries of smart devices' worldwide strong demand, because of their strong foothold in the supply of chips used in mobile phones and tablets.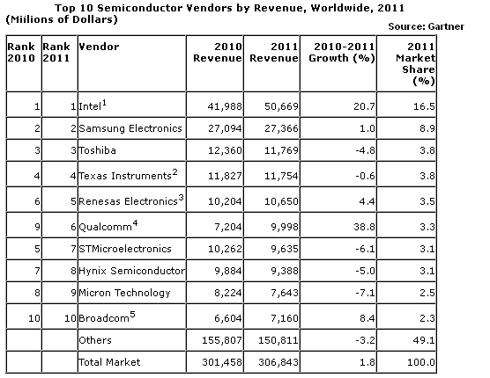 Click to enlarge
(Click to enlarge)
Gartner recently announced that the PC market remained flat in 2Q2012, as worldwide PC shipments declined by 0.1% YOY in 2Q2012 from 2Q2011 to 87.5 million units. The PC market growth is stagnant from the past two years due to economic uncertainty and low consumer interests. Technology sector dynamics are changing as consumers are shifting from traditional PCs to tablets, smartphones, and other smart devices; thereby resulting in a declining PC market future growth. Furthermore, owing to the deteriorating U.S. economic conditions, local public sector institutions have tightened budgets and public spending on PCs is disappearing. Gartner estimated that the PC market growth is expected to remain under pressure in 2012, as consumers demand a new level of innovation in PC products. Plus, the changing consumer shift toward tablets and smartphones will further hamper PC sales in 2012. Still, Ultrabooks and Windows 8 could drive some growth in the PC market in 2012. The demand in developed markets is expected to be replacement driven. Emerging markets will be the key driver of growth, as PC penetration levels rise in these developing economies, with more and more people buying high performance PCs and notebooks.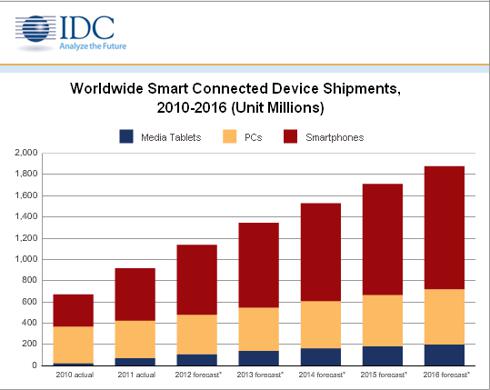 Click to enlarge
(Click to enlarge)
Moreover, Gartner has revised the 2012 worldwide IT spending forecast up by 50 basis points. Gartner now estimates that corporations will spend at least $3.6 trillion on IT compared to $3.5 trillion a year ago, a YOY growth of 3% in 2012 compared to earlier estimates of 2.5%. IT spending usually does not slow down significantly during recessionary times, as corporations continue to invest in IT to further reduce production and operational costs. Computing Hardware spending is expected to grow by 3.4% in 2012 and 6.6% in 2013.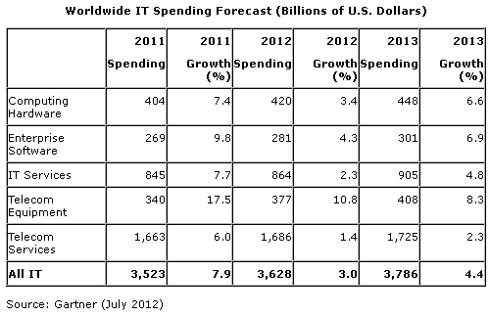 Click to enlarge
(Click to enlarge)
IDC estimates that the strongest demand in PCs will come from the mobile PC segment and emerging markets. Emerging markets are expected to be the driving factor in PC growth in future owing to low PC penetration levels and rising consumer income levels in these markets.
PC Shipments YOY Expected Growth by Region and Form Factor, 2012-2016

Region

Form Factor

2012E Units

2013E Units

2014E Units

2015E Units

2016E Units

Emerging Market

Desktop PC

2%

3%

3%

2%

2%

Emerging Market

Portable PC

12%

14%

16%

15%

14%

Emerging Market

Total PC

7%

9%

10%

10%

10%

Mature Market

Desktop PC

2%

0%

-2%

-1%

-3%

Mature Market

Portable PC

2%

10%

12%

11%

8%

Mature Market

Total PC

2%

7%

7%

7%

5%

Worldwide

Desktop PC

2%

2%

1%

1%

0%

Worldwide

Portable PC

7%

12%

14%

13%

12%

Worldwide

Total PC

5%

8%

9%

9%

8%
Competition
In the PC segment, Intel directly competes with Advanced Micro Devices (AMD), International Business Machines (IBM), Oracle (ORCL), and is recently facing stiff competition from rival ARM due to its widespread global usage in smart mobile devices. Within the PC segment, Intel competes with NVIDIA (NASDAQ:NVDA) on graphic products. In mobile computing, the company now directly faces competition from Qualcomm NVIDIA, and Texas Instruments (NYSE:TXN). Intel also owns McAfee Security Company, which directly competes with Symantec Corporation.
More than 75% of chips and microprocessors are fabricated in Intel foundries based in the U.S., with the remaining being fabricated in China, Ireland, and Israel.
Over the years, Intel's focus on energy efficient and small size processors has pushed the company to fabricate microprocessors by reducing the space consumed per transistor, reducing heat dissipation, and increasing the number of transistors on each chip. Intel states that these improvements can help it in reducing power consumption, enhancing performance, and reducing production costs.
Financial Review
1Q2012 results were slightly better than analysts' expectations, as revenues improved modestly YOY to $12.906 billion as last year's floods in Thailand, and the resulting hard disk supply shortage continue to disrupt PC supplies in 1Q2012. However, Intel projects that 2Q2012 revenues are not expected to be affected by this problem, as HDD inventory levels have been restocked to earlier levels. Still, 1Q2012 revenue levels were lower than 4Q2011, due to seasonality, as the demand for PCs and notebooks usually rises in the second half of the year. In 1Q2012, the positive effects of slightly higher product ASPs were offset by falling volumes.
| | | |
| --- | --- | --- |
| Geographic Revenue Mix | 1Q2012 | 1Q2011 |
| Asia Pacific | 57% | 56% |
| Americas | 20% | 21% |
| Europe | 14% | 13% |
| Japan | 9% | 10% |
| Total | 100% | 100% |
Startup costs have fallen in 1Q2012, as the company transitioned towards more efficient 22nm process technology. However, slim sales volume and resulting high inventory write-downs eroded the positive benefits of lower costs. Therefore, GP margin declined on a QoQ basis, but improved on a YOY basis.
1Q2012

1Q2011

(Millions of US Dollars)

Revenue

Operating Income

Op. Inc. Margin

Revenue

Operating Income

Op. Inc. Margin

PC Client

8,451

3,483

41%

8,621

3,543

41%

Data Center

2453

1143

47%

2464

1222

50%

Other Intel Architecture

1075

-312

-29%

1149

-36

-3%

Software and Services

571

7

1%

240

-52

-22%

Total

12,550

4,321

34%

12,474

4,677

37%
A decline in revenues from the PC client segment was attributable to falling notebook platform ASPs, with operating income declining because of inventory write-offs and higher operating expenses. Data Center revenues declined YOY in 1Q2012 on account of a significant decline in platform sales volumes, partially offset by rising server platform ASPs. Other Intel architecture, which consists of Intel mobile communications, intelligence systems, net book and tablets, and ultra mobility group, experienced falling revenues due to a decline in net book sales and associated ASPs. The Software and Services segment's operating results slightly improved from the inclusion of McAfee operating performance.
Among operating expenses, the most significant change was experienced in R&D expenses, which increased by 25% YOY in 1Q2012, as a result of higher investment in infrastructure and human resource, to pave the path for the introduction of next generation 14nm processors next year.
Valuation
INTC

TXN

QCOM

MU

PRICE ($)

25.39

27.30

54.37

6.21

Market Cap (intraday) ($ billions)

127.74B

31.24B

93.21B

6.13B

Forward P/E (fye Dec 31, 2013)

9.58

11.77

13.13

27.00

PEG Ratio (5 yr expected)

0.88

1.95

0.95

-0.51

Operating Margin (TTM):

31.69%

23.07%

32.35%

-2.71%

Total Cash Per Share (mrq):

2.73

2.42

8.8

2.29

Total Debt/Equity (mrq):

16.09

47.74

3.69

37.69

Earnings Growth Past 5 Years (per annum)

26.85%

9.40%

14.13%

9.18%

Expected Earnings Growth Next 5 Years (per annum)

11.80%

8.00%

15.26%

12.20%

Source: Yahoo Finance
Intel is trading at cheap valuations compared to rivals Texas Instruments, and Qualcomm. Intel is trading at 9.58x forward earnings with higher long term expected growth in earnings than Texas Instruments.
INTC VALUATION

INDUSTRY AVERAGE

INTC

Forward P/E (fye Dec 31, 2013)

15.37

9.58

PEG Ratio (5 yr expected)

0.8175

0.88

Expected Earnings Growth Next 5 Years (per annum)

11.82%

11.80%

IMPLIED FORWARD P/E

15.37

CURRENT FORWARD P/E

9.58

CURRENT PRICE

$25.39

2013E EPS

$2.65

TARGET PRICE

$40.73

UPSIDE

60%
Taking the industry average forward earnings multiple as a proxy for Intel's implied multiple, we came up with a target price of $40.73, thus offering a 60% upside to the current price.
Conclusion
Intel has been able to maintain its competitive advantage in chipset performance and efficiency levels for a long time, due to continued significant investment in R&D. Intel has also announced plans to enter into designing and manufacturing of chipsets, especially focusing on smartphones and tablets. Plus, the company is most appropriately positioned to take advantage of any growth in PC, Wireless, and Storage markets. Furthermore, attractive valuations compared to industry and rivals make Intel's stock a cheap one. Intel is also one of the few stocks in the Technology Industry, which are offering respected dividend yields in the current low interest rate environment. Therefore, we recommend taking a long position in Intel shares.
Disclosure: I have no positions in any stocks mentioned, and no plans to initiate any positions within the next 72 hours.