Portugal Telecom (PT) has recently announced a dividend cut, following the footsteps of its peers like Telefonica (TEF) or France Telecom (FTE). Given the ongoing sovereign debt crisis in Europe and the frozen credit markets for peripheral companies such as PT, management concerns of these companies switched from a pro-shareholder policy to a liquidity preservation mode.
Despite the dividend cut, PT still offers a very attractive dividend yield of 9%, which is much higher than for American telecom companies such as Verizon (VZ) or AT&T (T). Following the dividend cut announcement, PT's share price has rebound a little showing investors' lack of trust on the prior dividend policy.
Source: YahooFinance
The company cut the dividend in half and now, for the period 2012-14, it will pay an annual cash dividend amounting to €0.325 ($0.397) per share. Additionally, announced a €200 ($245) million share buy back programme over the next three years. Moreover, the reduction in shareholder remuneration policy enables the company to substantially reduce its dependency on foreign subsidiaries dividends to cover its own dividend commitments.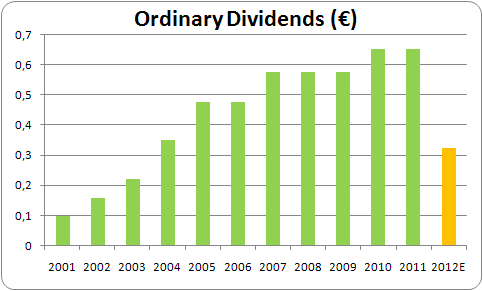 Source: PT
PT is also placing a retail bond maturing in 2016 for a total amount of €250 ($305) million, with an interest cost of 6.25%. These measures, together with the €800 ($975) million extension of a credit line form 2014 to 2016, will enable PT to extend coverage of its funding needs until 2016.
Conclusion
Although I believed PT could maintain the dividend policy unchanged at least for another year, as you can see in my previous articles here and here, the change in the shareholder remuneration policy will save the company around €750 ($915) million of cash, over the next three years, and is probably the right move for PT.
The company still remains with one of the highest shareholder remuneration policy within the sector, it has a more sustainable dividend, higher financial flexibility, and should increase investors trust on the company's ability to deliver this shareholder remuneration policy, even taking into account the weak macroeconomic outlook for Portugal.
Disclosure: I have no positions in any stocks mentioned, and no plans to initiate any positions within the next 72 hours.