Mark Twain, after hearing his obituary had been published in the New York Journal, remarked: "The reports of my death are greatly exaggerated." The same may be said of Dendreon Corporation (NASDAQ:DNDN).
From all the doom and gloom you hear surrounding the stock, ranging from downgrades to whining about the falling stock price, you would have thought Wall Street had pronounced Last Rites. Yet, there has been no news to drive the stock in either direction since the last conference call. Here and there bits and pieces of data surface - for example, if your patient enough to go to the Provenge Web site and count the number of sites in the Lower 48 where Provenge now is available, you'll see that the count stood at close to 1,100 at the end of June, 2012 - but in general, there has been nothing heard from the company.
One of many challenges Dendreon faces is to establish Provenge as the Foundation of Care. To understand this concept one has to recognize that at this point in the treatment of many diseases, and especially cancer, there is no silver bullet. That is, in the treatment of many diseases in general and cancer in particular, co-administration, or sequencing, of treatments is more the norm than the exception. To this end, if Dendreon can succeed in convincing the medical community that it serves the patients' best interests to 'lay in' a foundation of Provenge at the earliest possible time, and then, to follow up with other treatments, the life extension and other benefits can be optimized. This is but one reason why both urologists and oncologists should consider Provenge as an option for their patients when they ponder how they will approach, strategically, the care to be provided - and in what order.
In the treatment of prostate cancer, the matter of sequencing Provenge (sipuleucel-T) and Zytiga (abiraterone), for example, already has been addressed by clinicians and was discussed in the Journal of Clinical Oncology. Here is the critical advice:
"The practical dilemma of the appropriate sequence of use of the two new noncytotoxic agents (sipuleucel-T and abiraterone) is being addressed by trials that are under development. For now, given the broader window of applicability of abiraterone and the longer time required to develop an immune response with sipuleucel-T, if both agents are to be used, it seems reasonable to administer sipuleucel-T first with abiraterone after additional disease progression. Biomarkers to help define the optimal use of immunotherapy are needed."
There is anecdotal evidence to indicate that in about 20% of cases, Zytiga is being prescribed in Provenge's space based on an NCCN 2B rating (the second lowest. Provenge carries an NCCN 1 rating) for patients who have not undergone chemotherapy. It's interesting that the cited document contains the following statement: "Per NCCN guidelines, use of Zytiga as secondary hormone therapy for treatment of patients with no or minimal symptoms who are not candidates for docetaxel-based regimens is a category 2B recommendation. Zytiga has not demonstrated a prolongation in overall survival in the pre-chemotherapy setting." As readers know, the pivotal Phase 3 trial of Zytiga in a pre-chemo setting recently was terminated when the trial achieve stat sig in ONE of two endpoints, progression free survival, or PFS. The trial, however, did NOT achieve stat sig for the other endpoint, overall survival, or OS, trends aside. So, while there is no debate regarding whether or not Zytiga provides prostate cancer sufferers with several benefits, at this writing, overall survival is not one of them.
In fact, if you look at the Kaplan-Meyer curves for the data from the Phase 3 Zytiga trial - you and find them here, together with a discussion - you will see that the curves did not separate until the patients had been off the treatment regimen for 4 months. Put another way, no survival effect was seen until month 18, or 4 months beyond the point where the patients had been taken off the drug (and prednisone). This suggests strongly that except in those cases where a patient's disease load is increasing rapidly, it would be best to 'lay in' Provenge first, and then, add Zytiga at the appropriate time, if indicated. To prescribe 14 months of Zytiga first and wait 4 months to determine whether or not the treatment was effective risks having the patient pass through the "Provenge Window," eliminating any possibility that the patient can avail himself of the treatment's life extension benefits.
Everyone following this story, of course, is waiting for the release of the Zytiga briefing papers prior to the FDA Advisory Committee to be convened later this summer. Approval, so some extent, will hinge on the fact that the trial did not achieve stat sig OS. A similar situation can be seen with the cancer drug bevacizumab (Avastin), which according to a recent report, offers only a modest benefit in delaying disease progression in patients with advanced stage breast cancer. Cochrane researchers assessed the efficacy of bevacizumab in combination with chemotherapy, an established cancer treatment in this indication, and found no overall survival benefit when adding bevacizumab to chemotherapy. The FDA removed breast cancer from the label of bevacizumab in 2011 because of doubts about its benefit in terms of overall survival (among other reasons).
Returning to the subject of sequencing Provenge and other treatments, in a recent scientific journal article published in the National Center for Biotechnology Information's Frontiers in Oncology, Dr. Susan Slovin, Genitourinary Oncology Service, Sidney Kimmel Center for Prostate and Urologic Cancers, Memorial Sloan-Kettering Cancer Center, New York, noted that "[P]rostate cancer is particularly suited for active immunotherapy because of the expression of a distinctive number of antigens which are overexpressed on prostate cancer cells and cell lines."
She also noted "[T]here is evidence in this disease that tumors promote immune tolerance starting early in the disease course. As such, chemotherapy, by suppressing tumors and activating immune system homeostatic mechanisms, may help overcome this tumor-induced immune tolerance."
Hence the question: What could be expected if an active immunotherapy were sequenced with chemotherapy.
To answer this question, Slovin performed a post hoc analysis of data acquired from Dendreon's three Phase 3 trial participants who had, following treatment with sipuleucel-T (Provenge), been given docetaxel (Taxotere). What she found was a substantial survival benefit to patients receiving docetaxel some months after sipuleucel-T.
According to Slovin, "[A]n exploratory post hoc analysis of docetaxel with or without early sipuleucel-T found that there was a benefit to receiving docetaxel some months after sipuleucel-T. Median survival was 34.5 months for patients who received sipuleucel-T followed later by docetaxel (N = 51); 25.7 months for crossover placebo recipients who also received docetaxel (N = 21); and 20.2 months for placebo patients who received docetaxel without ever receiving a vaccine product (N = 10). The adjusted survival hazard ratio for the first of these groups compared with the others was 2.53 (P = 0.006; Petrylak et al., 2007; Petrylak, 2011)."
These results present an attractive idea. Chemotherapy-vaccine combinations, according to the author, have not been widely applied. So, while the data presented in her study are based on a small number of patients, and as such, the results are inconclusive, they do suggest the feasibility of combination immunotherapy-chemotherapy treatment to impact on the disease.
There still many unknowns, of course. Here, Slovin was specific: "…at least three questions…remain unaddressed with respect to chemotherapy administered with an immunotherapy: (1) what will be the most effective chemotherapy, (2) what is the most appropriate to foster synergism, and (3) what is the sequence of reagent delivery to foster maximum benefit?
Unexpectedly, Slovin observed that in analyzing another Phase 3 immunotherapy trial-this one combining the prostate cancer therapeutic vaccine GVAX plus docetaxel versus standard docetaxel therapy in advanced prostate cancer - she observed a lower overall survival with the vaccine regimen. This adds a fourth question, then: what is the most effective immunotherapy? Clearly, Provenge already has demonstrated synergy with docetaxel, and further sequencing studies such as that performed by Slovin would appear both appropriate and necessary.
Finally, the results of Slovin's study provide yet another demonstration of the fact that in the treatment of cancer, the co-administration of therapies will most likely be the rule rather than the exception, with proper sequencing paramount to achieving optimal life extension benefits.
Technical Analysis (as of close of business, Wednesday)
The Daily chart, courtesy StockChart.com, shows DNDN's stock continuing to drop with the overall market, but still holding above its low of early June. Relative Strength is approaching Oversold levels, and MACD has turned negative.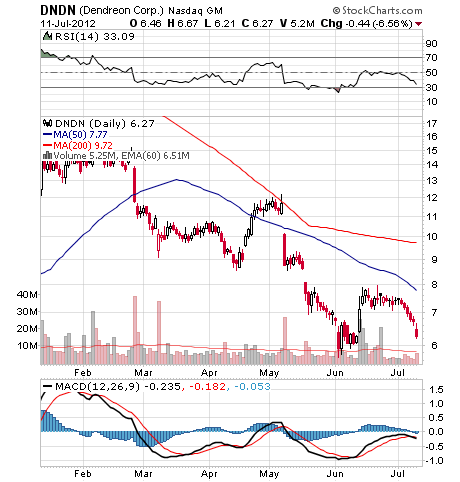 The data found on the Weekly chart mirror the data above. The stock is approaching Oversold levels while the MACD is neutral.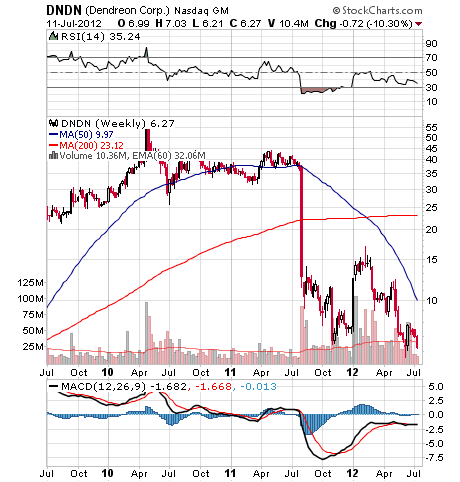 Disclosure: I am long DNDN.
Additional disclosure: I am long DNDN and will not alter my position within 72 hours of the time of publication of this article. I am not a registered investment advisor and do not provide specific investment advice. The information contained herein is for informational purposes only. Nothing in this article should be taken as a solicitation to purchase or sell securities. Before buying or selling any stock you should do your own research and reach your own conclusion. It is up to investors to make the correct decision after necessary research. Investing includes risks, including loss of principal.