This segment was taped at the American Stock Exchange, which offers trading across a full range of equities, options and exchange-traded funds.
Walter Nasdeo, director of research at Ardour Capital, discusses where the technology and investment opportunities in alternative energy are headed.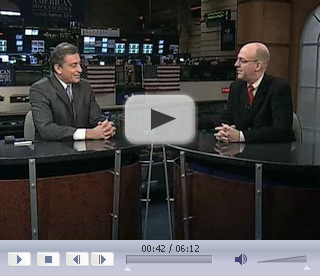 Mike Norman, HardAssetsInvestor.com [HAI]: Welcome back for the second half of my interview with Walter Nasdeo, who is a managing director and head of research for Ardour Capital. We're talking about alternative energy and alternative energy investments.

Walter, your firm actually has an index, an alternative energy index, and there is an ETF traded on that index, correct?

Walter Nasdeo, Ardour Capital (Nasdeo): That's correct. We have the Ardour Global Alternative Energy Index. It's about 115 alternative energy companies: It's global, it's pure play, and it's inclusive. We have companies from Europe, Asia, South America and North America in the index. All of the major areas of alternative energy are represented.

Off of that we've got something called the Extra Liquid Series, which is the 30 most liquid companies in the index, and off of that we have an ETF. Van Eck Global has licensed it and produced an ETF with the ticker symbol GEX; it's called the Market Vectors Alternative Energy Index. That's been out for almost a year now and has done very well. It has increased up and down in value, but it's still doing quite well at this time. There are also other things going on in that area too as far as other indexes and opportunities in there.

Norman: Your firm is an investment banking boutique. You go out there and you actually raise capital for companies in the alternative investment space. Where do you see the money coming from? Is it global interest? Is it coming principally from the United States? From China? Where do you see the money coming from?

Nasdeo: It's global, first of all. Huge amounts of money are in Europe. The United States is ramping up dramatically also. Interestingly enough, in the early part of this decade, there were a number of European investment firms that were mandated into sustainable, renewable, socially responsible types of funds. That's what they were in. So they had to find investment opportunities in this area. They were kind of the early standard bearers for investments in this space.

What ended up happening a couple of years ago was, especially with the solar companies, [they] really started to get some commercial sales going. They started to build up capacity; revenues were growing; and it really became interesting investment opportunities. When that happened, we started to see the U.S. investors get excited about it.

We've had solar and we had ethanol really stand out as the two major alternative energy investment plays over the last couple of years. We're starting to see other things get exciting now. The whole concept of energy efficiency is very important; energy storage is very important; things like flywheels, ultra-capacitors, advanced batteries, the way you have efficient lighting and the software-generated brains to run a building. When there are three people in the room, you don't need as much heat running as when there are two people. When all three people leave the room, the lights automatically shut off. The energy savings—and concurrent to that, the cost savings—are tremendous when you start layering this in.

We have other things called building integrated photovoltaics. The photovoltaic solar companies are making their products resemble building materials: bricks, adobe roofs and things like that.

Norman: They can actually be incorporated into the structure.

Nasdeo: Where they are totally unseen by anybody standing on the street. So this is the type of development that we're seeing happen in this space. We're seeing advanced materials and a lot of work being done in nanotechnology coming into this space. Carbon fibers and nanotubes and things like that are really playing into alternative energy. They're a little further out on the development continuum, but as you look at this, you start to see a space that's commercialized now and growing rapidly, but also has a lot of future opportunity that is appealing to people that like to be in pure-tech types of investments.

Norman: It's clear from the private sector point of view that the profit opportunity [is] out there now, particularly with the high oil prices. Do we need to see more public sector government involvement in the form of, let's say, tax rebates, tax incentives, maybe direct research [subsidies]? And do you think that's coming?

Nasdeo: I think it's coming. We have some now; I think more will come. This is another area that's kind of touchy in a lot of areas, because you'll talk to people who will tell you that alternative energy wouldn't even exist if not for government subsidies and government help. I would counter that by saying that oil and other traditional sources of power and fuel in this country are subsidized to tremendous levels, [including] over $80 billion a year of direct subsidies into the oil space. The alternatives get around $10 billion. If you start to look at that and come back on it, you'll see that there is a dramatic amount of opportunity there, and I think we're going to start seeing it going forward.

Norman: All right. Well there you have it folks. Not only high price of oil, but also new technologies driving investment in alternative energy. We'll be back once again very shortly with another installment of our interview series here on HardAssetsInvestor.com.
Be sure to check Part I of our interview with Walter Nasdeo.