Second quarter sales and earnings from retailers are indicating that consumers are spending again. Various U.S. retailers have kicked off earnings season on a positive note, gaining investor interest to the sector and exchange traded funds.
"Same-store sales at the more than 20 companies tracked by Retail Metrics Inc. rose 0.3 %, compared with the 1% average estimate of analysts surveyed by the research firm. The results follow a 7.2% increase last year," Kelly Blessing for Bloomberg wrote.
TJX Cos (NYSE:TJX), which owns discount stores T.J. Maxx and Marshalls, beat analysts' average estimate for a 3.7% sales increase. The healthy earnings for discount retailers signals that middle income consumers are spending again. Earnings season has kicked off on a mixed note, with overall sentiment more positive than expected.
"The high-end consumer has fared particularly well throughout this recovery," Ken Perkins, president of Retail Metrics, said in an interview. "On the low end, a lot of middle-income consumers have traded down."
The retail sector is cyclical by nature. If the U.S. economy continues to make baby steps in an upward direction, the sector will benefit. The SPDR S&P Retail ETF (NYSEARCA:XRT) has been on a steady uptrend since bottoming out in August 2011. XRT was down 0.13% so far this week, while the SPDR S&P 500 (NYSEARCA:SPY) was down 0.16%.
Parallel to U.S. retail sales, XRT has slid more than 4% in the past three months, as the weak jobs reports and constant Eurozone troubles influence spending. The S&P 500 shed about 3.3% over the past quarter.
XRT will be an important ETF to watch this week as U.S. retail sales and Consumer Confidence are set to be announced on Friday.
SPDR S&P Retail ETF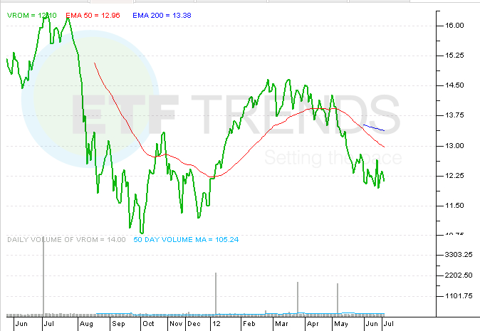 Click to enlarge
Tisha Guerrero contributed to this article.
Disclosure: I am long SPY.
Additional disclosure: Tom Lydon's clients own SPY.